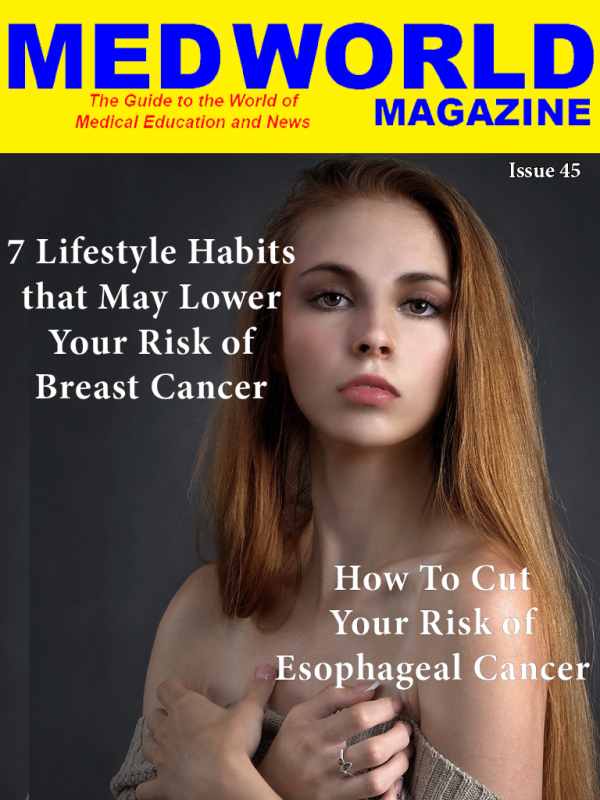 Purchase Options
Available for: iOS/Android App + Web Reader
In This Issue
7 Lifestyle Habits That May Lower Your Risk of Breast Cancer

The statistics are sobering: one in seven women will develop breast cancer at some point in her life. Some women are genetically at higher risk of developing breast cancer; however, 85% of breast cancer cases occur in women who have no family history of the disease. In fact, lifestyle plays a role in preventing many types of cancer, including breast cancer.

How To Cut Your Risk of Esophageal Cancer

Esophageal cancer isn't a particularly common type of cancer; it is ranked the 18th most prevalent cancer in the United States, with the American Cancer Society reporting close to 17,000 new cases in 2015. However, cancer of the esophagus is increasing quicker than malignancies at any other body site.
Purchase Options
Available for: iOS/Android App + Web Reader
About Med World
Med World Magazine is your quarterly guide to the world of medical education and news.
Stay up to date on important medical news, latest news release from medical schools, and read our medical educational articles.
Our supplemental issues contain numerous listings of important medical organizations, schools, publications and medical social media sites.
Category: Careers, Education, Family & Home, Medical, Personal Development
Publisher: Med World
Published: Quarterly
Language: English
Compatibility: iOS/Android App + Web Reader
Peek Inside
Tap images to enlarge...
About The Publisher
Medical World Magazine: Your Guide To The World of Medical Education and News Medical World Magazine began publishing in 2014 as "The Incredible Medical... read more

Past Issues
Tap below for more from Med World Magazine