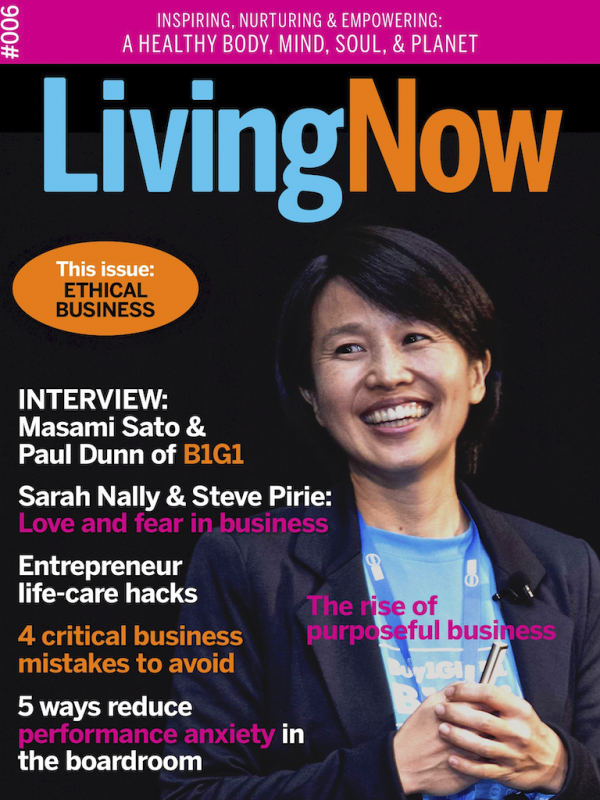 Purchase Options
Available for: iOS/Android App + Web Reader
In This Issue
The rise of purposeful business.

The 'purpose economy' is here. Right now, it is unevenly distributed and poorly understood, as the future often is. But in the coming years, the purpose economy will redefine how we conduct business and derive meaning in our lives.

Why good people do bad things.

Recent ethical failings at Cricket Australia, the banks, and the Murray Darling basin authority have left many of us wondering how all these bad people got into positions of power and what must be done to punish them and deter others from doing the same. But research indicates that only 4% of the population is 'bad' and that the majority of 'bad' unethical outcomes are unintentionally created by 'good' people. Why do good people create bad outcomes, and what can we do to avoid these pitfalls ourselves?

The transformative power of giving – INTERVIEW: Masami Sato & Paul Dunn, B1G1

David and Emma talk to Masami and Paul, the founders of B1G1, a global organisation dedicated to connecting businesses and projects that want to do more good in the world

Lighting the way – Interview with Liam Foldi

met Liam Foldi at a recent B1G1 event. He's an amazing entrepreneur, doing business for good – raising money for various charities around the world, creating employment opportunities for minority communities in Melbourne – all this is great in itself, but add to that – he is 16!

Navigating boundaries in business

Technology-led advances in communication and connectivity are changing traditional organisational and leadership practice. Understanding and setting boundaries has now become a key factor for achieving goals.

'Shock Jocks' versus consumer activism

Sometimes it seems politicians are more likely to listen to what shock jocks have to say than take notice of protests. However corporations can be swayed by the volume of lobbying they receive and this can make a difference

Corporate ethics – where do you get 'em?

Corporate ethics define relationships between businesses and their customers – especially when things go wrong. But where do they come from?

Healthy professional boundaries – the next frontier

Let's face it, relationship boundaries are a big issue in everyone's personal life these days. And a lot of us have now had the therapy, completed the mindfulness training and maybe even feel we have a Masters in managing teenagers. Yet at work, healthy boundaries remain tricky. Why?

Fear and love in business

What do businesses need in 2020 to go from good to great? We believe the answer is simple – less fear, more love.

Compete or create? What do you choose?

By recognising and discontinuing competitive comparisons, and asking questions to open up your thinking, the speed and ease of your business will be greater. You will also enhance the impact you generate in the world.

5 tips to counter performance anxiety in the boardroom

As a young girl from a dormitory suburb in Brisbane, Louise spoke too fast and was too high-pitched for anyone to understand. Yet, when she learnt to breathe, she discovered she could sing, as in 'really' sing. She ended up as the protégé of Sir Peter Pears and Dame Elizabeth Schwarzkopf at the Vienna State Opera. Now, having some 20 years' experience working with Australia's top corporate leaders – Louise has noticed a dangerous focus on tactics that are actually adding to the problem of performance anxiety.

The first critical business mistake – lack of vision

If you do not start out with a clear vision, or lose sight of it at some point, the business will ultimately drift aimlessly. This is the first of four articles that discuss critical errors common to many small-to-medium enterprises.

The second critical business mistake – reactive marketing

Marketing is much more than advertising to find new clients.In fact, even thinking in these terms is the wrong way to look at it.

The third critical business mistake - ineffective delegation

Can't find good people to work in your small business; or do your delegation systems need to be examined?

The fourth critical business mistake – lack of control

It is very important to know how the business is performing, so that decisions can be made about how things are being done. The more frequent and up-to-date reports are, the more useful they are.

An entrepreneur's self-care life hacks

All too often, what should be a number one priority – your health and wellbeing – gets relegated to the bottom of that list. Here are four tips for squeezing in some self-care, no matter how long your work week is.

7 keys to cultivating authentic leadership

Today's leadership is not about 'command and control'; it's about inspiring and influencing. The key to being able to do this is by being authentic. Here's how.

Working in a way that feeds my soul

I'd had enough of feeling stressed at work, so I surrendered and discovered another way of working. Every day I learn more about how to work in a way that feeds my soul.

Does doing what you love stress you out?

Are you happy in your job and yet stressed by it? Here's some advice to get you out of that 'rock and a hard place' situation.

Money and the great divide

There's a great divide between the spiritual and material; it's an imaginary divide, to be sure. However this divide has power – because it is believed in.

Mindfulness for better decision making

Have you ever been stuck making a decision? Here are some mindfulness-based tips to help tap into your inner wisdom.

Workaholism: a growing problem

Workaholism has always existed. But now, in the Communication Age, people can now work from anywhere, night or day. The problem seems to be escalating.

Creating financial magic

Getting mindful with your money can bring about powerful changes to your whole quality of life. Here are ten simple, practical steps to help you thrive financially.

The social issues Aussies care most about

Research shows Aussies are passionate about mental health and climate change. This article explores the nature of these issues, and steps you can take to help.

The soul at work

Most of us want to enhance our experience of work and enrich our work environments with meaning and purpose, vision and values, creativity and inspiration, joy and deep human connection. How do we do this? Let's look inside our own self, into our own soul, for guidance.
Purchase Options
Available for: iOS/Android App + Web Reader
About LivingNow
Australia's leading personal development magazine, inc wellness, mindfulness & meditation, women's thrivability, relationships, & lifestyle.
Category: Family & Home, Lifestyle, Personal Development, Wellness & Meditation, Women's
Publisher: LivingNow
Published: Quarterly
Language: English
Compatibility: iOS/Android App + Web Reader
Peek Inside
Tap images to enlarge...
Past Issues
Tap below for more from LivingNow