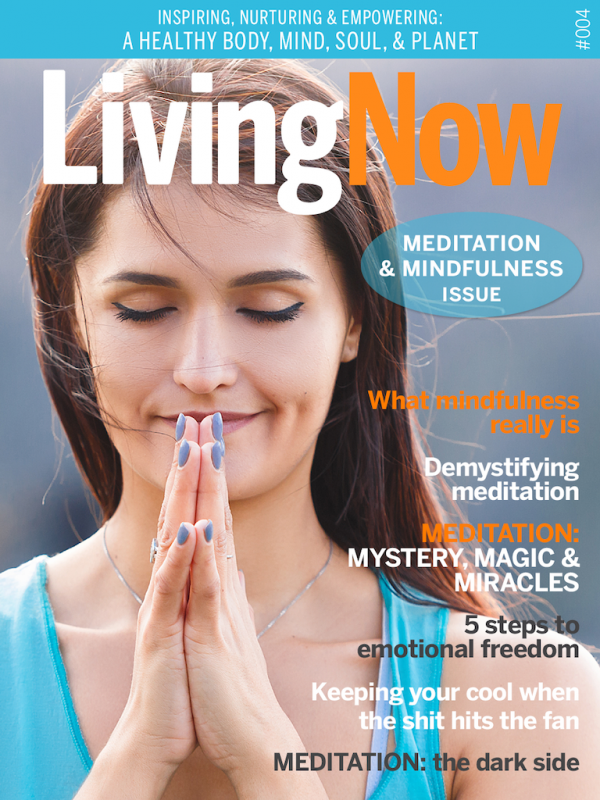 Purchase Options
Available for iOS / Android
In This Issue
Introduction to issue #004 - focus: meditation & mindfulness

The concepts and practices of MEDITATION & MINDFULNESS are both ancient and modern – and I'm delighted to offer you these great articles about them! Even if you're a regular meditator, you may find that there are things you didn't know about these topics. Several of these articles have really helped me connect back in with myself, and find some peace within the chaos. I'm so grateful that all these talented authors share their knowledge and insights with us, in LivingNow. :-) Emma

What mindfulness really is – by Dr Richard Chambers

Mindfulness is everywhere these days! But what is it really? Expert Dr Richard Chambers brings mindfulness back to its pure intention, and offers helpful tips on how to practise effectively.

Demystifying meditation – by Lauren J. Wilson

Perhaps the biggest barrier to meditation is the word itself. Here are five easy ways to find a fulfilling meditation practice that's right for you.

Meditation: mystery, magic, and miracles – by Paul Bedson

Science is regularly 'proving' the benefits of practising meditation, but perhaps the real magic of meditation lies in the unknown.

Meditate or medicate – by Glenda Lamaro

Meditation has been scientifically proven effective in reducing stress – a major health issue in modern life – and has other important benefits.

The simple life – by Barry Vissell

Barry tells how having his wallet and phone stolen gave him the gift of simplicity he was yearning for.

Mindful technology – by Elise Bialylew

Are you addicted to social media? Here's a diagnostic checklist, plus 4 tips to help break the habit and get your life back into balance.

The meditating scientist – by Judith Lissing

Scientifically trained, and understanding the proven health benefits of meditation, Judith is also empowered through wearing two hats at the one time.

Beyond mindfulness into oneness – by Paul Bedson

The power of mindfulness can dissolve our illusion of separation altogether.

Neuroplasticity & mindfulness – by Elise Bialylew

Doctor, psychiatrist, and mindfulness expert tells: We have the power to train our brains to experience a deeper and more sustainable kind of happiness.

Tea mindfulness – by Salina Hainzl

Are you feeling stressed to the max? Wanting to slow down but don't know how?

Embrace the power of gratitude – by Dr. Narjes Gorjizadeh

You can train your brain to be more positive and happier, and gratitude is one of the most effective ways to do that.

Lightening up: a very different kind of spiritual retreat – by Joyce Vissell

Spiritual retreats don't have to be all about meditation, quiet and withdrawal from the everyday. Joyce discovers the sacred joy of tidying up.

Keeping your cool when the shit hits the fan – by Boris von Rechenberg

We all face difficulty and loss. How we cope with it comes down to our attitude to the situation more than the situation itself. Here's how meditation saved my life, even when all seemed lost.

Why I chose mindfulness over meditation – by Jacinta Starick

There are many paths humans may travel on the way to finding their truth. Mindful living helps us find who we were truly intended to be, enabling greater gratitude, expanded love and joy.

Meditation: The dark side – by Dr Jeannet Weijers

Warning: meditation in high enough doses has severe side effects and most of them are unpleasant. These side effects are unavoidable.

Mindfulness: 5 steps to emotional freedom – by Elise Bialylew

Mindfulness is a practice that supports the capacity to stay focussed on what you are doing as you are doing it – a powerful antidote to the distractible nature of the mind and information overload.

Building a mindful society – by Margie Ulbrick and Dr Richard Chambers

When we become mindful we learn to recognise the impact of our words and actions on everything around us, and can create powerful change in our communities and the world.
Purchase Options
Available for iOS / Android
About LivingNow
Australia's leading personal development magazine, inc wellness, mindfulness & meditation, women's thrivability, relationships, & lifestyle.
Category: Family & Home, Lifestyle, Personal Development, Wellness & Meditation, Women's
Publisher: LivingNow
Published: Quarterly
Language: English
Compatibility: iOS / Android
Peek Inside
Tap images to enlarge...
Past Issues
Tap below for more from LivingNow Magazine