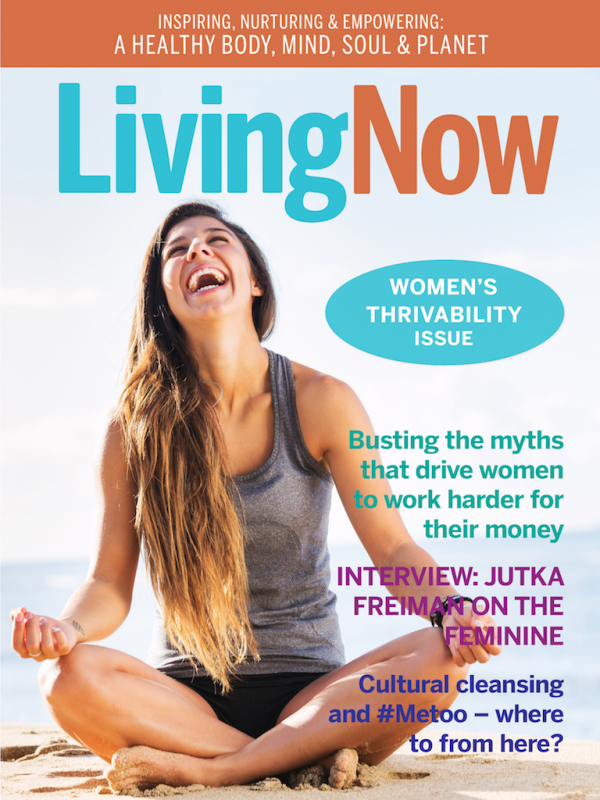 Purchase Options
Available for: iOS/Android App + Web Reader
In This Issue
Introduction to issue #003 - focus: women's thrivability

In this issue there are many amazing articles that talk about all sorts of aspects of what it might mean to get in touch with our Feminine – and thrive (and whether we identify as female or not is irrelevant). All articles by experts in their fields, and passionate communicators, sharing their wisdom. :-) Emma

The 'sexy, spiritual, successful woman' ideal – by Casey Conroy

Debunking the SSSW brand, and 11 tips on how to avoid being damaged by it.

Cultural cleansing and #metoo – where to from here? – by Janine Ma-Ree

In the wake of the #Metoo movement, we are experiencing a cultural cleansing. Janine explores the intricacies of gender dynamics within and between ourselves, and what is needed to reclaim our wild innocence and move forward with love.

Mapping our way as women – by Charlotte Young

Monthly cycles can be mapped out in a seasonally inspired way. Interestingly, perimenopausal women share some common challenges with pubescent girls.

Busting the myths that drive women to work harder – by Julie Ann Cairns

We're taught that working hard and making sacrifices is the only way to get ahead in life. But what if we could break this thought cycle?

Women and leadership – by Tathra Street

The world desperately needs more women in leadership roles. How do we shape a society that redresses imbalance in the number of women in leadership positions?

Life – Embracing the shit bits – by Kendra Greig

In a world of images and role models that propagate a female ideal, Kendra is encouraging women to come together, embrace the reality of life's full spectrum, and tell it like it is.

From surviving – to thriving – by Emma J Stephens

A harrowing story of a young Australian woman being attacked while travelling overseas, then choosing to seek harmony rather than revenge. Warning: confronting content.

Spiritual empowerment for women – by Rev Rhonda Murray

An illuminating look at the role of women in religion and spirituality – past, present, and future.

Women and friendship – by Gemma Di Bari

Gemma explores the importance of female friendship in all stages of life.

Interview: Jutka Freiman on the Feminine – with Kris McIntyre

Jutka takes us into the archetypal realm of the Feminine. She explains its meaning for women at different stages of life, and shares her experience of turning 60.

To really choose a man – by Joyce Vissell

There are many rivals for attention that stand in the way of a woman clearly choosing her partner as the most important person in her life

Let's talk about period pain – by Dr Leela Klein

Around 95% of women experience period pain at some stage in their life, though the subject is rarely spoken about. Leela offers some direct discussion and helpful advice on how to manage this common occurrence.

Tampon safety – what are the real risks? – by Robert Verkerk PhD

In the wake of the warning that tampons might contain Monsanto's herbicide Roundup, should menstruating women give up on tampons completely? How big of a risk is Toxic Shock Syndrome?

Honouring Aphrodite – by Marianne Williamson

What's exciting about being a Western woman today is that we're allowed to embody as many and whatever goddesses we choose. For those who seek a deeper romance, it serves to embody the goddess Aphrodite, for she is the goddess of romantic love.

Postcards on the Feminine – compiled by LivingNow

Contributions from the LivingNow community and the New Human Summit were invited to comment on the theme of women's thrivability, the 'Feminine', and #MeToo.
Purchase Options
Available for: iOS/Android App + Web Reader
About LivingNow
Australia's leading personal development magazine, inc wellness, mindfulness & meditation, women's thrivability, relationships, & lifestyle.
Category: Family & Home, Lifestyle, Personal Development, Wellness & Meditation, Women's
Publisher: LivingNow
Published: Quarterly
Language: English
Compatibility: iOS/Android App + Web Reader
Peek Inside
Tap images to enlarge...
Past Issues
Tap below for more from LivingNow