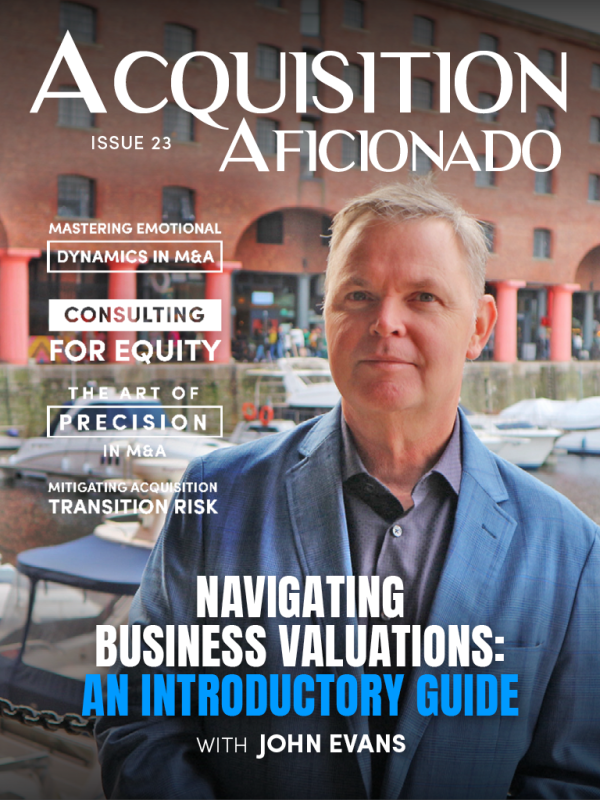 Purchase Options
Available for: iOS/Android App + Web Reader
In This Issue
Issue 23 November 2023

Tips and strategies from seasoned Acquisition masters in the field. M&A enthusiasts will learn how to acquire, grow and exit with greater success!

The Heart of the Deal: Mastering Emotional Dynamics in M&A

Krystof Bartos is a seasoned entrepreneur who has successfully bought and sold multiple companies. In this article he focuses on the emotional aspects of dealmaking from building relationships with the sellers, to negotiations, to managing your own emotions during the process.

How to Find the Right Lawyer for Your Deal

In this video from our Business Acquisition Virtual Summit, Eric Hsu explains in great detail how to search out the right lawyer for your deal and we share the full question and answer portion at the end.

Navigating Business Valuations: An Introductory Guide

Join John Evans, author of "The Multiple Myth" which explores why some businesses sell for crazy high multiples, and others don't sell at all. In this article, John delves into examples and details surrounding the valuation of a business being a multifaceted task and how both buyers and sellers should educate themselves to help them navigate these waters.

Consulting for Equity

This is a special training video with Chris Moore, acquisition entrepreneur and partner of Dealmakers Wealth Society. Chris is an expert in the CFE space and kindly shares his wealth of knowledge in this video.

Laterally Think Your Way to More Sales and Profits

With 2023 having seen significant turmoil in the banking industry it is important to know that there are many tools and strategies business owners can use to mitigate the impact on their businesses. Join Chukwudi Ekeowa as he shows you it may be in your best interest to remain agile, adaptive, and curious.

From Searcher to CEO: Analyzing and Mitigating Acquisition Transition Risk

In this article, Lisa Forrest from Live Oak Bank discusses how, in going from searcher to CEO, you must overcome transition risk by identifying, analyzing and mitigating issues that can sabotage a healthy change of ownership.

Buying a Business and Running a Business are Two Different Things

Nick Ayala has built and sold multiple companies and in this article he sheds light on the essential elements and potential pitfalls for a successful post-acquisition journey.

The Art of Precision in M&A: Crafting and Adhering to Effective Acquisition Criteria

Scott S. Bell shines the light on specific ways that you can laser focus on your acquisition criteria so that you can find the right company and be rewarded with a win!

Empowering Growth:Analyzing the Impact and Evolution of the SBA 7(a) Loan Program (2018-2023)

This article from Edgar Fernandez will analyze data on approved SBA 7(a) loans from 2018 to 2023, providing insights into the program's evolution and impact on small businesses.
Purchase Options
Available for: iOS/Android App + Web Reader
About Acquisition Aficionado Magazine
In Acquisition Aficionado Magazine you will receive advice & strategies as well as in-depth interviews and stories from leading experts in the business acquisition industry.
Ease the exit process and learn new tactics for business buying and selling while discovering little-known financing strategies to successfully get your deals funded. If you are passionate about acquisitions, then this magazine is for you!
Subscribe now and uplevel your acquisition success!
Category: Business & Entrepreneurship, Education, Personal Development
Publisher: Acquisition Aficionado Magazine
Published: Monthly
Language: English
Compatibility: iOS/Android App + Web Reader
Peek Inside
Tap images to enlarge...
About The Publisher
Len's professional background brings to the table over 30 years of experience in entrepreneurship & business with skill sets in sales, human behavior,... read more
Past Issues
Tap below for more from Acquisition Aficionado Magazine