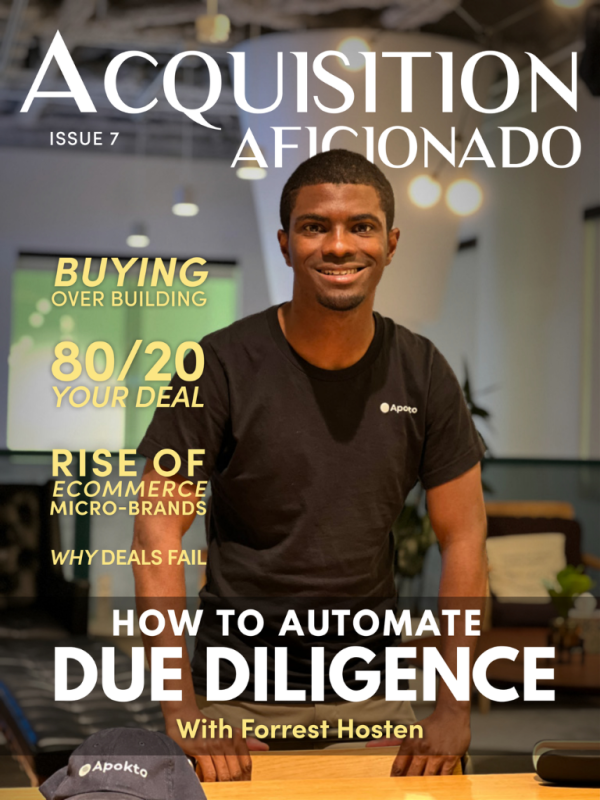 Purchase Options
Available for: iOS/Android App + Web Reader
In This Issue
Issue 7 July 2022

Tips & strategies from seasoned Acquisition masters in the field. M&A enthusiasts will learn how to acquire, grow, and exit with greater success.

Why Buying Businesses Over Building Them is Smarter!

Jay Jackson shows 12 key areas he has discovered to be most important when acquiring and growing a business.

Top M&A Entrepreneurs: $100 Million Market Cap Holding Co. E:64 Michael Girdley

In this episode of Top M&A Entrepreneurs, Jon Stoddard talks with Michael Girdley, Chairman of Girdley Enterprises.

How to Automate Due Diligence in 2022

Forrest Hosten discusses how the problem with due diligence gave him the idea for a platform that provides an efficient solution that saves you from wasted time and money.

The Rise of the Micro-Brands in eCommerce

In this article, David Popovich of Trust the Brokers, shows clearly that the new era of micro-brands is on the rise and will continue to expand exponentially in the following years.

6 Crucial To-Do's Before Selling Your Online Business

In this article, Yury Byalik covers some of the most important action items you should prepare before selling your business.

80/20 Your Deal

Jamie Simpson walks you through the reasons he feels it is better to buy 80% of a business rather than buying 100%.

Seller Doesn't Want to Seller Finance - What Do I Do?

In this video, Roland Frasier does a deal walkthrough discussing seller financing.

8 Financial Details to Consider if You Want to Acquire a Business

Ami Kassar, of Multifunding.com, gives his top tips and tricks for those looking to finance an acquisition of their own.

Why Deals Fail – A Case Study

In this article, Raoul Nembhard takes you through an actual acquisition case study with himself and his team and shows some of the ups,downs, and lessons learned.

Why Acquiring Always Beats a Startup

In this article Edgar Fernandez gives an objective comparison of the stats that show why acquiring a company is usually a better option than starting one from scratch.

How Programmatic Acquisitions Turn SMEs Into PE Targets in Just 3-5 Years

Rob Williams helps you understand programmatic acquisitions, the mindset behind them and whether this is the right approach for your acquisitions.
Purchase Options
Available for: iOS/Android App + Web Reader
About Acquisition Aficionado Magazine
In Acquisition Aficionado Magazine you will receive advice & strategies as well as in-depth interviews and stories from leading experts in the business acquisition industry.
Ease the exit process and learn new tactics for business buying and selling while discovering little-known financing strategies to successfully get your deals funded. If you are passionate about acquisitions, then this magazine is for you!
Subscribe now and uplevel your acquisition success!
Category: Business & Entrepreneurship, Education, Personal Development
Publisher: Acquisition Aficionado Magazine
Published: Monthly
Language: English
Compatibility: iOS/Android App + Web Reader
Peek Inside
Tap images to enlarge...
About The Publisher
Len's professional background brings to the table over 30 years of experience in entrepreneurship & business with skill sets in sales, human behavior,... read more
Past Issues
Tap below for more from Acquisition Aficionado Magazine