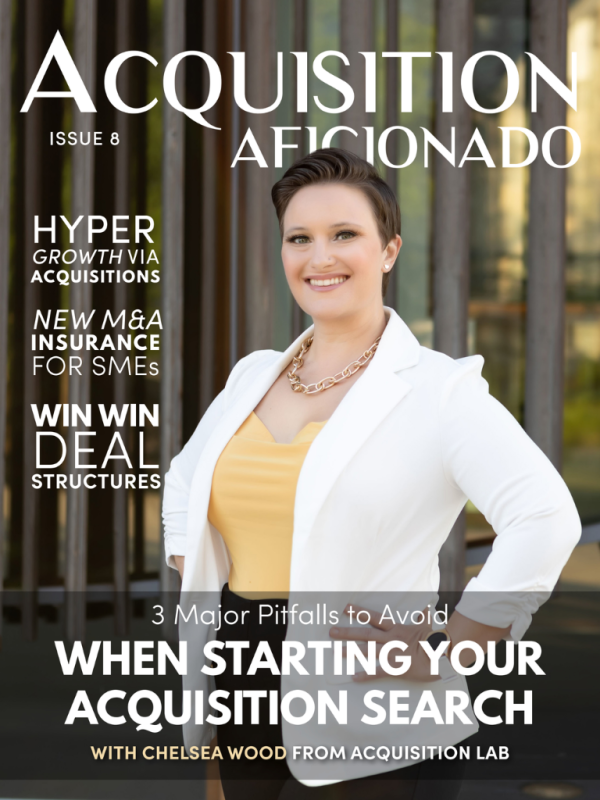 Purchase Options
Available for: iOS/Android App + Web Reader
In This Issue
Issue 8 Aug 2022

Tips & strategies from seasoned Acquisition masters in the field. M&A enthusiasts will learn how to acquire, grow, and exit with greater success.

Introducing AcquireCover - M&A Insurance for SMEs

This interview with Craig Arnatt will introduce you to AcquireCover Insurance for SMEs in the M&A space.

Lessons From the Lab: 3 Major Pitfalls to Avoid When Starting Your Search

Chelsea Wood from Acquisition Lab discusses the most common issues and three major pitfalls searchers fall into as they develop their acquisition strategy.

Should You Focus on Income or Value?

Nick Bradley shows that income and value are not the same thing, why both matter so much, and how both can drive growth in differing ways.

Hyper Growth Via Acquisitions

In this article, Edgar Fernandez discusses Why The 2020s Will Beat The 1980s In M&A Activity.

Deal Structures

In this article, Nick Stuart covers a fresh approach and different deal structures for doing M&A deals with importance on Win Win Deals for all parties.

How2Exit Episode 47: Nunzio Presta - former Pro Hockey player turned Entrepreneur

Ron Skelton interviews Nunzio Presta for insights into business ownership and talks about his platform,buyandsellabusiness.com, where buyers and sellers can connect.

Avoiding The Prolonged Productivity Slump

Robin Johnson gives valuable insight to a business going through a merger or acquisition to understand where their people are emotionally in order to progress forward, determining the success of the new company.

Acquisition Inspiration

Sebastian Amieva shares a personal and inspirational story of his first acquisition.

Business Law and M&A

M&A lawyer, Omeed Tabiei shares his almost decade long legal experience to cover one of the biggest challenges of acquiring a business - Employee Retention.

Strategy Deep Dive – Acquiring for Information

In this article, Michael Streets gives an outside the box approach to building long term value when growing your company.

Deal Making,The Human Factor - Integrating Personalities and Management Styles

Darius Ross talks about updating your thinking to keep happy customers and employees, and a profitable outcome with the least amount of downside.
Purchase Options
Available for: iOS/Android App + Web Reader
About Acquisition Aficionado Magazine
In Acquisition Aficionado Magazine you will receive advice & strategies as well as in-depth interviews and stories from leading experts in the business acquisition industry.
Ease the exit process and learn new tactics for business buying and selling while discovering little-known financing strategies to successfully get your deals funded. If you are passionate about acquisitions, then this magazine is for you!
Subscribe now and uplevel your acquisition success!
Category: Business & Entrepreneurship, Education, Personal Development
Publisher: Acquisition Aficionado Magazine
Published: Monthly
Language: English
Compatibility: iOS/Android App + Web Reader
Peek Inside
Tap images to enlarge...
About The Publisher
Len's professional background brings to the table over 30 years of experience in entrepreneurship & business with skill sets in sales, human behavior,... read more
Past Issues
Tap below for more from Acquisition Aficionado Magazine