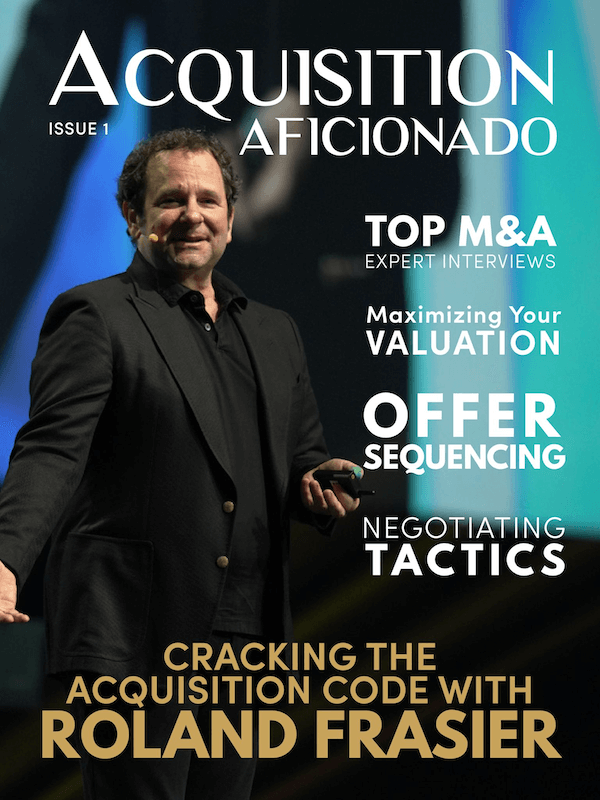 Purchase Options
Available for: iOS/Android App + Web Reader
In This Issue
Offer Sequencing and Negotiations: Tactics that Lead to Win-Win Acquisitions!

Carl Allen dives deep into the art of deal sequencing, negotiation tactics of top acquisition entrepreneurs, teaching you how to set up your deal flow for optimum success and how to structure your acquisition offers for maximum leverage. Increase your deal-making power dramatically!

Scale To Sale - How to Exit Your Business for Life-Changing Money!

Discover hidden strategies behind the most successful exits with Nick Bradley and what you can do to achieve the same results. Nick offers a powerful perspective with valuable advice on how to successfully exit your venture for a life-changing payout!

Cracking the Acquisition Code: Buying and Selling Businesses Successfully

Crack the acquisition code with Roland Frasier by learning to reposition your company and implement powerful methods of increasing your business valuation and maximizing its potential. Techniques and tips you can use TODAY to seal the success of your deals!

How To Maximize the Valuation of Each Acquisition and Exit

Alex Nghiem unveils tactics used by the pros to obtain high valuations and dramatically increase your acquisition and exit success. This strategy-rich article discusses a series of immediate and long-term activities that will maximize the ROI of each of your acquisitions!

Expect To Find Dirt and Skeletons: Business Mindset and Due Diligence

Tom Beal, top business consultant and former marine, teaches you that even though all businesses have their hidden dirt and skeletons you can have fun with the acquisition process, saving you turmoil, worry, and fear.

SBA Loan Magic: Higher Lender Approval Rates

In this article Joshua Kim, the "deal architect", reveals the Magic behind achieving success with SBA Loans. He helps people figure out the best way to design a business acquisition for the highest chance of approval with lenders.

WHAT THE FLIPPA?: Insight Into the #1 Digital Business Market

Blake Hutchison, CEO of Flippa the #1 marketplace to buy & sell digital real estate, gives us a privileged sneak peek at their private intel regarding the business buying and selling space while talking about the staggering growth metrics and upward trends. In this telling interview, Blake shares his thoughts on the current state of the industry.

18 Lessons Learned From Over 100 Years of Combined Business Buying & Selling Intelligence!

David Michaelson of IAG Mergers shares 18 powerful lessons that will dramatically impact the business sale and the owner's peace of mind. With over 100 years of combined experience, IAG delivers powerful tips that save money, time, and worry while allowing you to achieve the best results possible!

Top M&A Entrepreneurs Interview!

Jon Stoddard of The Top M&A Entrepreneurs Podcast interviews Adam Coffey to teach you how to generate multiple income streams, grow new acquisitions, deal with seller's motivation plus so much more! His guests have acquired over 600 businesses and more than $52 Billion in value.

How Does Agglomeration™ Help Small & Medium Sized Businesses Grow?

In this video, Jeremy Harbour explores the topic of a self-designed deal strategy that solves many growth challenges that entrepreneurs face such as risk, scale, and liquidity. Jeremy has advised on more than 300 acquisitions and is innovating the way mergers and acquisitions are done.

Sell Your Small Business to a Private Equity Firm!

David Barnett interviews Mike Finger on selling your business to a private equity firm. They share the knowledge and stats you need before you venture into this exit strategy, giving you the ins and outs and the do's and dont's.
Purchase Options
Available for: iOS/Android App + Web Reader
About Acquisition Aficionado Magazine
In Acquisition Aficionado Magazine you will receive advice & strategies as well as in-depth interviews and stories from leading experts in the business acquisition industry.
Ease the exit process and learn new tactics for business buying and selling while discovering little-known financing strategies to successfully get your deals funded. If you are passionate about acquisitions, then this magazine is for you!
Subscribe now and uplevel your acquisition success!
Category:
Publisher: Acquisition Aficionado Magazine
Published: Monthly
Language: English
Compatibility: iOS/Android App + Web Reader
Peek Inside
Tap images to enlarge...
About The Publisher
Len's professional background brings to the table over 30 years of experience in entrepreneurship & business with skill sets in sales, human behavior,... read more
Past Issues
Tap below for more from Acquisition Aficionado Magazine