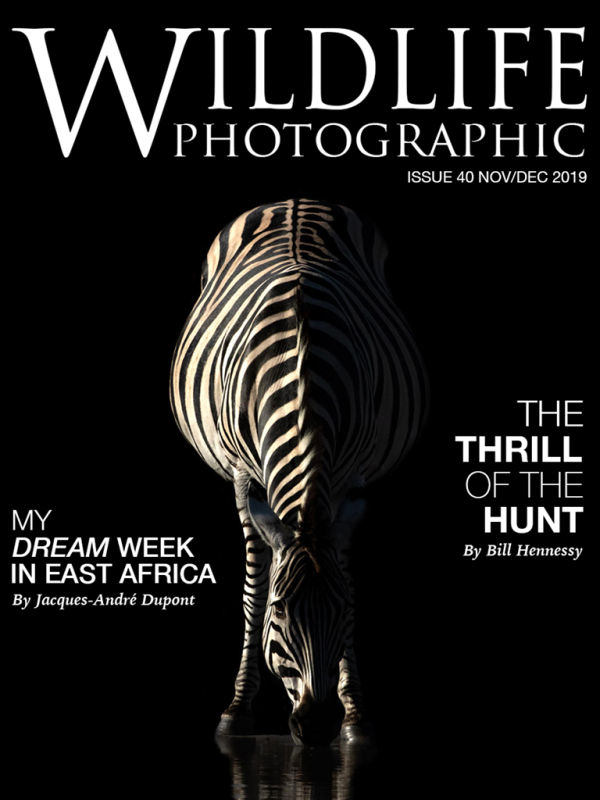 Purchase Options
Available for iOS / Android
In This Issue
Finding Great Locations For Wildlife Photography

Ray Hennessy on the excitement of finding your own photographic locations: "I think about bird photography a lot. Most of my downtime is spent thinking about or planning bird photography. Lately, I've been thinking a lot about how and where I photograph birds. I'm starting to realize that I much more enjoy the chase than simply capturing the photo. The longer I've been doing this, the more I realize I've been losing out on the experience, and I want that back."

Photographing Forest Elephants of the Congo Basin

Close encounters with the Forest Elephants of the Congo Basin, by Ramdas Iyer: "Any discussion on the subject of elephants is one that ultimately leads to deep dismay. Along with the rhino, elephant populations have been in deep decline, especially in the last three decades. While most of us photographers have experienced the joy of being around large herds of savannah elephants in east and southern Africa, not many have photographed the forest elephant in its true habitat."

Wildlife Photography Gear and Life:10 Questions with Roie Galitz

Roie Gailitz uncovers her life in photography, her gear, setting, stories, places, and favorite photographs.

Photographing Bats in the Amazon Rainforest

Spending Six Hours a Day with Bats in the Amazon Rainforest, with Mark Fernley: "The Amazon Rainforest is a wonderful place, with interesting things around every twist and turn for the wildlife photographer. As I was walking through the forest on an unfamiliar path during a photographic shoot, I spotted something large on the ground, obscured by undergrowth in the shade of the trees towering like giants overhead. Making my way over, I discovered it to be a large hollow treefall that had been there for many years. I had to explore! Taking a look inside, I found a large colony of bats. This would require a planned return to photograph them!"

Field Notes: Experienced Wildlife Photographers Share the Story Behind the Image

David and Pui Hang Miles on how they took this beautiful photo of a Harrier at a hide in Toledo, including equipment used and camera settings.

Wildlife Photographer of the Year 2019

Wildlife Photographer of the Year is developed and produced by the Natural History Museum, London. Don't miss our selection of the various winners from over 48,000 total entires to this year's competition.

Professional Wildlife Photographer Critiques Reader Submissions

WP editor and award-winning professional wildlife photographer Bill Gozansky provides pro tips and advice on reader-submitted wildlife photographs - how to take your wildlife photo compositions to the next level.

Editor's Choice of Reader Selected Wildlife Photographs

WP editor Bill Gozansky showcases the best images submitted by readers from around the world.

A Photographer's Dream Week in Kenya

Images and text by Jacques-André Dupont: "I had heard the rumors, or even the promises, that Mara North Conservancy was worth visiting, especially if, like me, you take both your photography and wildlife seriously and if you are looking for the 'once upon a time' Africa."
Purchase Options
Available for iOS / Android
About Wildlife Photographic Magazine
Category: Arts & Photography, Travel & Destinations
Publisher: Wildlife Photographic Magazine
Published: Bi-monthly
Language: English
Compatibility: iOS / Android
Past Issues
Tap below for more from Wildlife Photographic Magazine