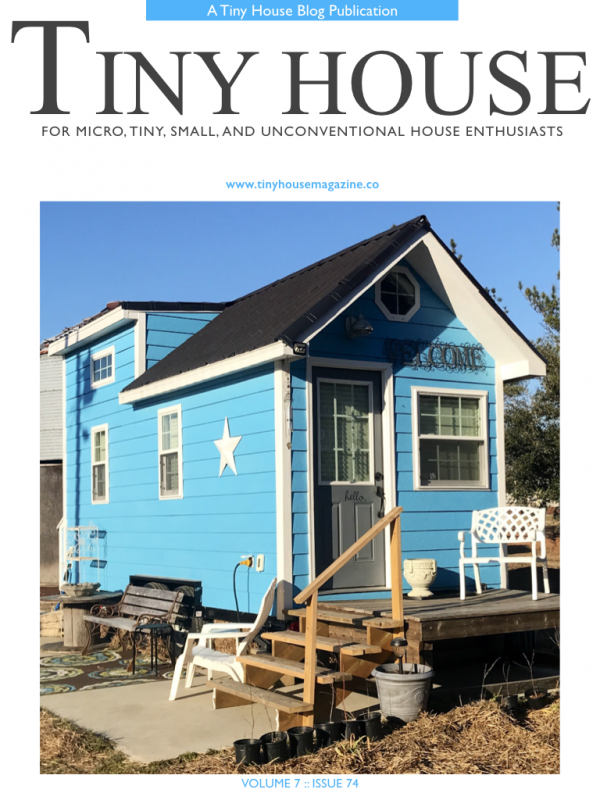 Purchase Options
Available for iOS / Android
In This Issue
Create Your Oasis

Author and Speaker Brenda Mason talks about her DOWNSIZING31 course and the guidelines you should adhere to to really create that Oasis Life.

How To Stay In Love...Even In A Tiny House

Laura LaVoie is back this month sharing ideas on how to stay in love even in a tiny house. She and her partner Matt have been together for 21 years and are still dating each other each and every day!

Tiny House With A View

Tiny homeowners with a pet or two are rather commonplace. But to have multiple dogs, raise dogs, shelter dogs, and train dogs, all within a tiny house on wheels, is something only contributing writer Samantha Lainer truly understands.

Big Dog Tiny House

Regular contributor Tiffany Bee discusses life on a boat and living in a tiny space with Sylvie the Australian Cattle Dog.

A Kondo Community

What does it really mean to embrace community? Ashley Sutterfield explores what it means and how she maybe wasn't quite ready for all it brought with it!
Purchase Options
Available for iOS / Android
About Tiny House Magazine
Learn about the Tiny House Lifestyle with no distractions in magazine format.
Learn from real people living the tiny life style; the good and the bad.
Discover different types of tiny houses from liveaboard boats to Alaskan yurts, converted school buses to high wall tents.
Try recipes from a tiny house kitchen. Each month we feature a recipe from the Tiny House Foodie. Learn to make it work and still cook like a pro.
Hear from those living with kids in a tiny house. What happens when you build for two but end up with four? Can it really be done?
See scenes from tiny house festivals, workshops, and events!
Read excerpts from books on tiny houses, downsizing, and a host of other related topics.
Each month brings new topics and new, exciting articles!
Category: Crafts & Hobbies, DIY, Family & Home, Lifestyle
Publisher: Tiny House Magazine
Published: Monthly
Language: English
Compatibility: iOS / Android
Peek Inside
Tap images to enlarge...
About The Publisher
Kent Griswold has published the Tiny House Blog since 2007 and created the Tiny House Magazine in 2013. An avid tiny house enthusiast promoting the... read more
Past Issues
Tap below for more from Tiny House Magazine Magazine