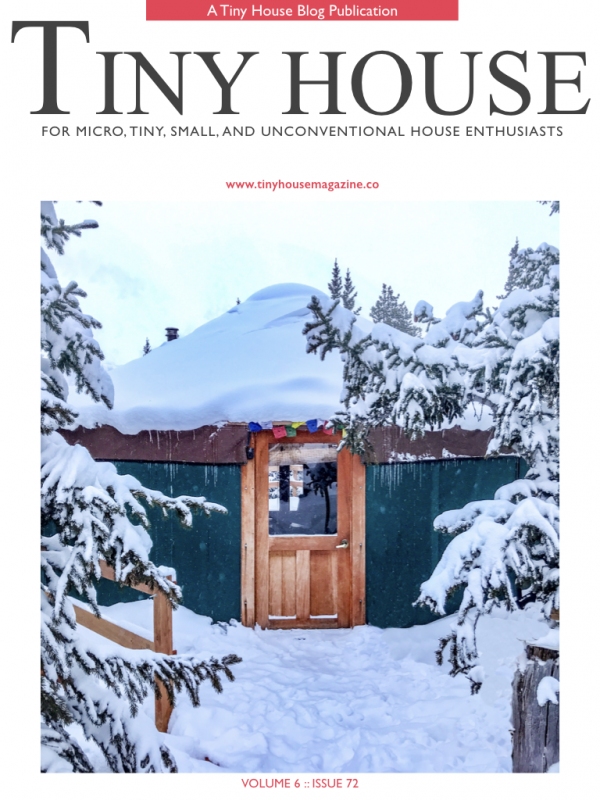 Purchase Options
Available for iOS / Android
In This Issue
Needful Things

There is lots of talk about what makes tiny house living easier. But has anyone really gone through the absolute essentials? Has anyone made a list to save you time and torment? Tiffany Bee has.

Big Taste, Small Cooking

Nothing says "Happy Holidays" quite like a simmering cider. Chef and tiny houser Carmen Shenk recalls a time when her Christmas concoction raised spirits and voices!

Clear Expectations

Brynn Burger talks about how she lays out the expectations for the holidays for her family and especially her children. HINT: It doesn't involve just getting gifts.

Holidays In The Tiny House

Laura M. LaVoie has been living tiny for a number of years and each year she gets smarter about how to live large without suffering or sacrificing. This month she talks about how to celebrate the holidays and not overcrowd your tiny house.

Outdoorsy Micro Business

Downsizing into a smaller, more manageable life not only frees up time. It creates a new world of business connections. Much like Airbnb and HomeAway, the peer-to-peer RV sharing service, Outdoorsy, has opened up another opportunity for RV, camper van and trailer owners to make money from their rigs

Want To Enjoy More Of Your Holiday Season? Remove These 10 Things.

Unfortunately, busy and "rushed" rarely leads to a merry holiday. If you want to enjoy more of your holiday season this year, identify what to remove.
Purchase Options
Available for iOS / Android
About Tiny House Magazine
Learn about the Tiny House Lifestyle with no distractions in magazine format.
Learn from real people living the tiny life style; the good and the bad.
Discover different types of tiny houses from liveaboard boats to Alaskan yurts, converted school buses to high wall tents.
Try recipes from a tiny house kitchen. Each month we feature a recipe from the Tiny House Foodie. Learn to make it work and still cook like a pro.
Hear from those living with kids in a tiny house. What happens when you build for two but end up with four? Can it really be done?
See scenes from tiny house festivals, workshops, and events!
Read excerpts from books on tiny houses, downsizing, and a host of other related topics.
Each month brings new topics and new, exciting articles!
Category: Crafts & Hobbies, DIY, Family & Home, Lifestyle
Publisher: Tiny House Magazine
Published: Monthly
Language: English
Compatibility: iOS / Android
Peek Inside
Tap images to enlarge...
About The Publisher
Kent Griswold has published the Tiny House Blog since 2007 and created the Tiny House Magazine in 2013. An avid tiny house enthusiast promoting the... read more
Past Issues
Tap below for more from Tiny House Magazine Magazine