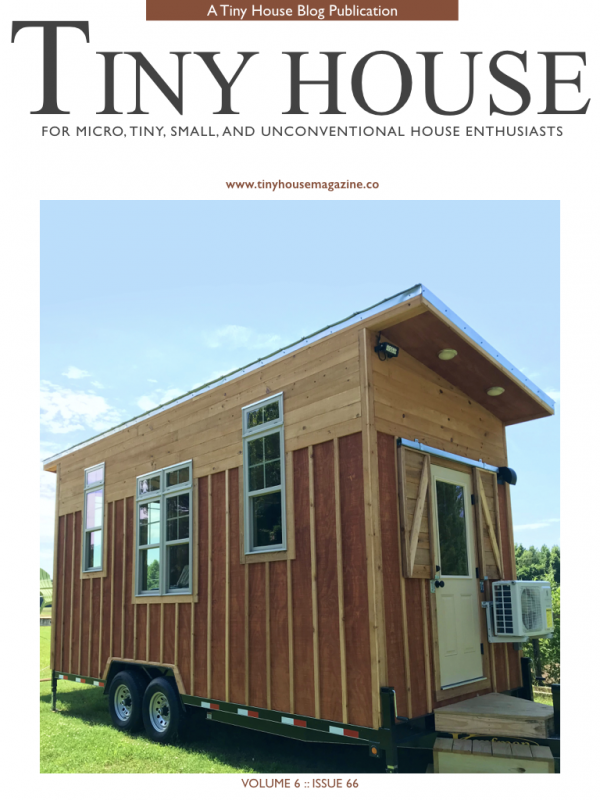 Purchase Options
Available for iOS / Android
In This Issue
Being Human In A Tiny House

Have you ever wondered what it is like to stay overnight in a tiny house? Imagine if you were already a tiny houser and had to adapt your idea of tiny to someone else's?

Bringing The Cottage To You

RVs are arguably part of the modern tiny house movement. When renovated or used as a rental, the mobility possibilities are endless.

Vermont Goes Tiny

Vermont is going to host their annual tiny house festival and we've got your backstage pass.

Ten Ways Minimalism Will Improve Your Life

At one point, I started talking to my neighbor, complaining about how much time had gone into my one chore. She changed my life with one sentence when she replied, "That's why my daughter is a minimalist. She keeps telling me I don't need to own all this stuff."

inTech RV Quality, Aluminum Versatility

The market for these smaller, yet very versatile campers is continuing to grow every month as more and more people experience them for the first time.

5 Ways Going Tiny Renewed the Fun in Learning

We sold our home, 15 acres, and over 80 percent of our belongings and hit the road with the freedom to 'Roadschool' our kiddos. This traveling version of homeschooling has truly put the fun back into learning for our children as well as for many others living a road-worthy lifestyle.
Purchase Options
Available for iOS / Android
About Tiny House Magazine
Learn about the Tiny House Lifestyle with no distractions in magazine format.
Learn from real people living the tiny life style; the good and the bad.
Discover different types of tiny houses from liveaboard boats to Alaskan yurts, converted school buses to high wall tents.
Try recipes from a tiny house kitchen. Each month we feature a recipe from the Tiny House Foodie. Learn to make it work and still cook like a pro.
Hear from those living with kids in a tiny house. What happens when you build for two but end up with four? Can it really be done?
See scenes from tiny house festivals, workshops, and events!
Read excerpts from books on tiny houses, downsizing, and a host of other related topics.
Each month brings new topics and new, exciting articles!
Category: Crafts & Hobbies, DIY, Family & Home, Lifestyle
Publisher: Tiny House Magazine
Published: Monthly
Language: English
Compatibility: iOS / Android
Peek Inside
Tap images to enlarge...
About The Publisher
Kent Griswold has published the Tiny House Blog since 2007 and created the Tiny House Magazine in 2013. An avid tiny house enthusiast promoting the... read more
Past Issues
Tap below for more from Tiny House Magazine Magazine