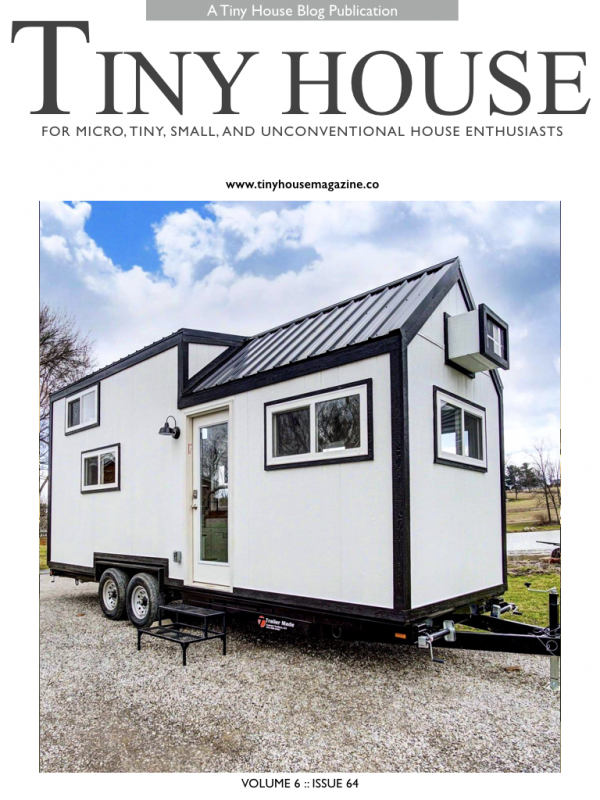 Purchase Options
Available for iOS / Android
In This Issue
Big Apple Pie

Tiny house boat dweller Tiffany Butler adds her wit and wisdom to baking the perfect pie in a small space!

The World Is My Living Room

Don't you feel isolated in such a small house? It's a question author Laura LaVoie has been asked repeatedly.

Welcome To Planet Earth

Everything is bigger in Texas, right? Not these tiny houses!

Perfectly Imperfect

Sarah Hine and her husband George were just crossing the country. Things changed when they hitched up a 24' long tiny house on wheels though!

Old Denver City Bus Transformed as Young Family's Comfy Home

Facing an unaffordable housing market, Scott and Emily bought a retired Denver city bus at auction and rebuilt it as a spacious home for themselves and their children.
Purchase Options
Available for iOS / Android
About Tiny House Magazine
Learn about the Tiny House Lifestyle with no distractions in magazine format.
Learn from real people living the tiny life style; the good and the bad.
Discover different types of tiny houses from liveaboard boats to Alaskan yurts, converted school buses to high wall tents.
Try recipes from a tiny house kitchen. Each month we feature a recipe from the Tiny House Foodie. Learn to make it work and still cook like a pro.
Hear from those living with kids in a tiny house. What happens when you build for two but end up with four? Can it really be done?
See scenes from tiny house festivals, workshops, and events!
Read excerpts from books on tiny houses, downsizing, and a host of other related topics.
Each month brings new topics and new, exciting articles!
Category: Crafts & Hobbies, DIY, Family & Home, Lifestyle
Publisher: Tiny House Magazine
Published: Monthly
Language: English
Compatibility: iOS / Android
Peek Inside
Tap images to enlarge...
About The Publisher
Kent Griswold has published the Tiny House Blog since 2007 and created the Tiny House Magazine in 2013. An avid tiny house enthusiast promoting the... read more
Past Issues
Tap below for more from Tiny House Magazine Magazine