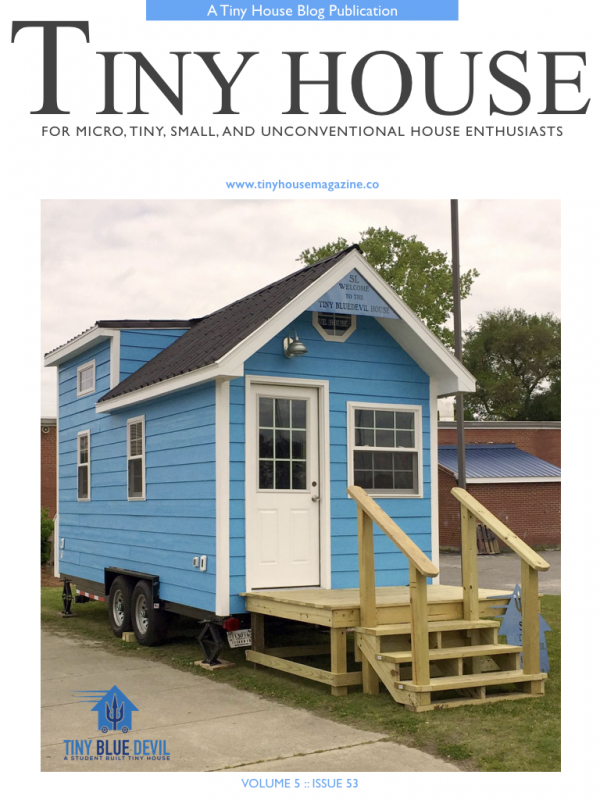 Purchase Options
Available for iOS / Android
In This Issue
A Deadbolt, a Dog and a 9mm

Security measures for your tiny house are a personal thing. Find out what Lora Higgins does to feel safe in her THOW.

We Went All In

Is the nomadic life for you? It isn't for everyone. Read about one husband and wife who found out it wasn't as glamorous as Instagram makes it.

Le Bon Café

The story behind the little café that could includes her recent popularity in eastern North Carolina.

SHACcing Up

Laura LaVoie has been involved with the modern tiny house movement for years. Find out about her involvement with the small home community in Asheville.

Tiny House Appendix

If you are interested in seeing tiny houses legalized as primary residences across the US, we would love your help!
Purchase Options
Available for iOS / Android
About Tiny House Magazine
Learn about the Tiny House Lifestyle with no distractions in magazine format.
Learn from real people living the tiny life style; the good and the bad.
Discover different types of tiny houses from liveaboard boats to Alaskan yurts, converted school buses to high wall tents.
Try recipes from a tiny house kitchen. Each month we feature a recipe from the Tiny House Foodie. Learn to make it work and still cook like a pro.
Hear from those living with kids in a tiny house. What happens when you build for two but end up with four? Can it really be done?
See scenes from tiny house festivals, workshops, and events!
Read excerpts from books on tiny houses, downsizing, and a host of other related topics.
Each month brings new topics and new, exciting articles!
Category: Crafts & Hobbies, DIY, Family & Home, Lifestyle
Publisher: Tiny House Magazine
Published: Monthly
Language: English
Compatibility: iOS / Android
Peek Inside
Tap images to enlarge...
About The Publisher
Kent Griswold has published the Tiny House Blog since 2007 and created the Tiny House Magazine in 2013. An avid tiny house enthusiast promoting the... read more
Past Issues
Tap below for more from Tiny House Magazine Magazine