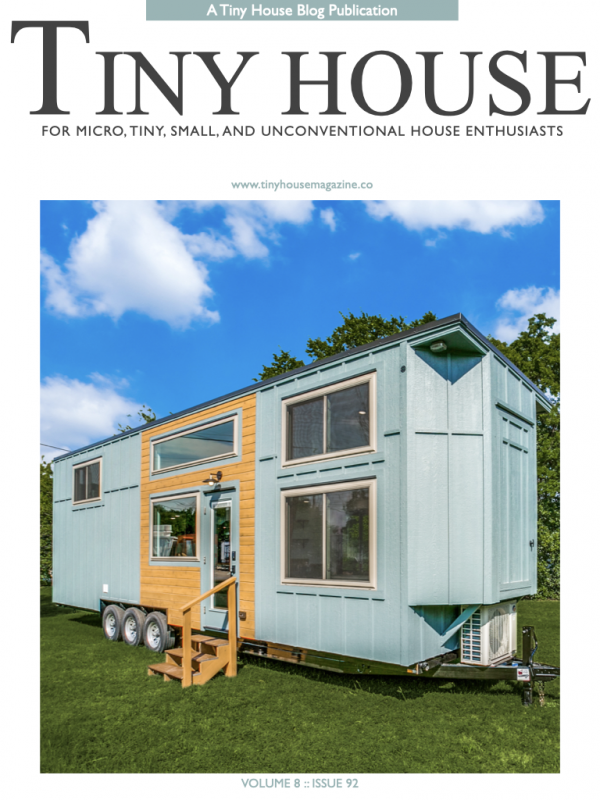 Purchase Options
Available for iOS / Android
In This Issue
Beating The Heat In A Tiny House

There is nothing worse than lying up in your sleeping loft blanketed with sweat because your tiny house was built sans air conditioning. What can you do? Author Laura LaVoie lets us in on some of her tips.

It's The Journey Not The Destination

Was this journey worth it? Absolutely! Thanks to tiny house living I have two beautiful children who spent their lives in a non-toxic tiny home. We are living in paradise, doing the activities we love.

Egg Man: Freedom Tour 2

Rebecca Noel has lived in a sheepherders wagon, a tiny house, an artist loft, on a bicycle, and now in an adventure van. Check out her latest Freedom Tour with the Egg Man!

The Underappreciated Joy of Keeping Your Tastes Simple

My tastes, overall, are quite simple. I own a 2005 Honda Accord, I wear a black V-neck t-shirt purchased at the local outlet mall, my tennis racket is 20 years old, I order black coffee at coffee shops, and my hair products (a topic of much conversation on YouTube) are bought off the shelf at Target.

Avoid The Store. Ship To Door.

Are you addicted to ordering online? Does Amazon have your address in their Contacts List? Perhaps it's time to break the habit. Author Meghan Marsden offers great insight into the "bad boy" love affair you just can't seem to let go of.
Purchase Options
Available for iOS / Android
About Tiny House Magazine
Learn about the Tiny House Lifestyle with no distractions in magazine format.
Learn from real people living the tiny life style; the good and the bad.
Discover different types of tiny houses from liveaboard boats to Alaskan yurts, converted school buses to high wall tents.
Try recipes from a tiny house kitchen. Each month we feature a recipe from the Tiny House Foodie. Learn to make it work and still cook like a pro.
Hear from those living with kids in a tiny house. What happens when you build for two but end up with four? Can it really be done?
See scenes from tiny house festivals, workshops, and events!
Read excerpts from books on tiny houses, downsizing, and a host of other related topics.
Each month brings new topics and new, exciting articles!
Category: Crafts & Hobbies, DIY, Family & Home, Lifestyle
Publisher: Tiny House Magazine
Published: Monthly
Language: English
Compatibility: iOS / Android
Peek Inside
Tap images to enlarge...
About The Publisher
Kent Griswold has published the Tiny House Blog since 2007 and created the Tiny House Magazine in 2013. An avid tiny house enthusiast promoting the... read more
Past Issues
Tap below for more from Tiny House Magazine