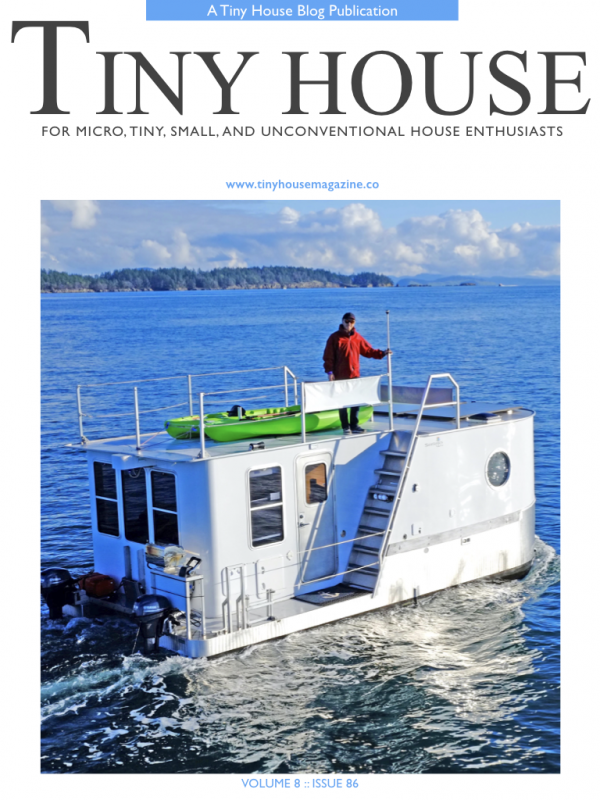 Purchase Options
Available for iOS / Android
In This Issue
Chasing The Sun

Erika Guli recounts her first year in her tiny house and the seasons that come in life.

Next Big Thing For Tiny Homes

Modular homes are typically factory-built, with costs and requirements that greatly exceed those used by Tiny Home RV builders.

Downsizing In Six Weeks

Could you imagine downsizing from 4,000 square feet to 800 square feet in just six weeks? Read how Jim and Betsi Hill did it.

Have Hammer - Will Travel

Each time Strathy pops open the back hatch he is met by curious onlookers who want to know about the traveling workshop. The Dogghouse is designed specifically for these purposes and for off-grid construction.

Finding The Right Fit

Happiness isn't always found in the 'bigger is better' mentality. Sometimes you have to see how the other half lives in order to find the right fit.
Purchase Options
Available for iOS / Android
About Tiny House Magazine
Learn about the Tiny House Lifestyle with no distractions in magazine format.
Learn from real people living the tiny life style; the good and the bad.
Discover different types of tiny houses from liveaboard boats to Alaskan yurts, converted school buses to high wall tents.
Try recipes from a tiny house kitchen. Each month we feature a recipe from the Tiny House Foodie. Learn to make it work and still cook like a pro.
Hear from those living with kids in a tiny house. What happens when you build for two but end up with four? Can it really be done?
See scenes from tiny house festivals, workshops, and events!
Read excerpts from books on tiny houses, downsizing, and a host of other related topics.
Each month brings new topics and new, exciting articles!
Category: Crafts & Hobbies, DIY, Family & Home, Lifestyle
Publisher: Tiny House Magazine
Published: Monthly
Language: English
Compatibility: iOS / Android
Peek Inside
Tap images to enlarge...
About The Publisher
Kent Griswold has published the Tiny House Blog since 2007 and created the Tiny House Magazine in 2013. An avid tiny house enthusiast promoting the... read more
Past Issues
Tap below for more from Tiny House Magazine Magazine