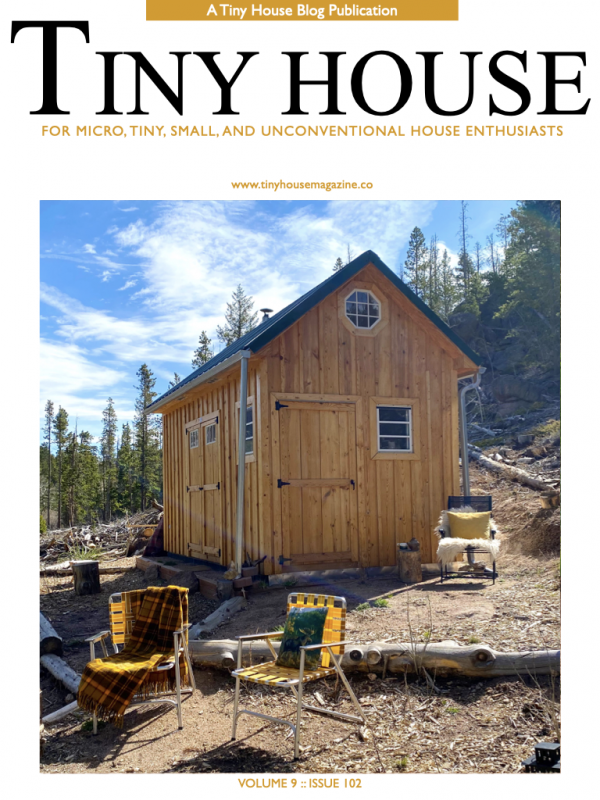 Purchase Options
Available for: iOS/Android App + Web Reader
In This Issue
A Movable Shoe Closet - One Heart, Two Feet

New contributor Susan Joslyn shares how her most particular shoes made the downsizing cut. Find out which pairs and why.

Dispelling The Myth Of The Tiny House

While tiny home enthusiasts are some of the most well-researched home buyers on the market, some still fall short when it comes to the necessities for "boondocking" with their tiny house.

The House Stands Firm

Tiny House Ministries has been building custom tiny houses as a ministry for a couple of years and continues to create homes for those in need.

Relentless Proximity: A Love Story For Tiny Spaces

As we outfit our old SUV for camping and make plans to spend the summer in a yurt, I'm realizing that relationships are their own tiny space. They can feel claustrophobic, yes. But they can also feel expansive. The best are a structure built on trust and function and sustainability.

It's Getting Hot in Here

It's Getting Hot in Here Regular contributor Brenda Mason Parmelee shares how she and her husband stay cool in their stationary bus home even though they have no air conditioning.
Purchase Options
Available for: iOS/Android App + Web Reader
About Tiny House Magazine
Learn about the Tiny House Lifestyle with no distractions in magazine format.
Learn from real people living the tiny life style; the good and the bad.
Discover different types of tiny houses from liveaboard boats to Alaskan yurts, converted school buses to high wall tents.
Try recipes from a tiny house kitchen. Each month we feature a recipe from the Tiny House Foodie. Learn to make it work and still cook like a pro.
Hear from those living with kids in a tiny house. What happens when you build for two but end up with four? Can it really be done?
See scenes from tiny house festivals, workshops, and events!
Read excerpts from books on tiny houses, downsizing, and a host of other related topics.
Each month brings new topics and new, exciting articles!
Category: Crafts & Hobbies, DIY, Family & Home, Lifestyle
Publisher: Tiny House Magazine
Published: Monthly
Language: English
Compatibility: iOS/Android App + Web Reader
Peek Inside
Tap images to enlarge...
About The Publisher
Kent Griswold has published the Tiny House Blog since 2007 and created the Tiny House Magazine in 2013. An avid tiny house enthusiast promoting the... read more
Past Issues
Tap below for more from Tiny House Magazine