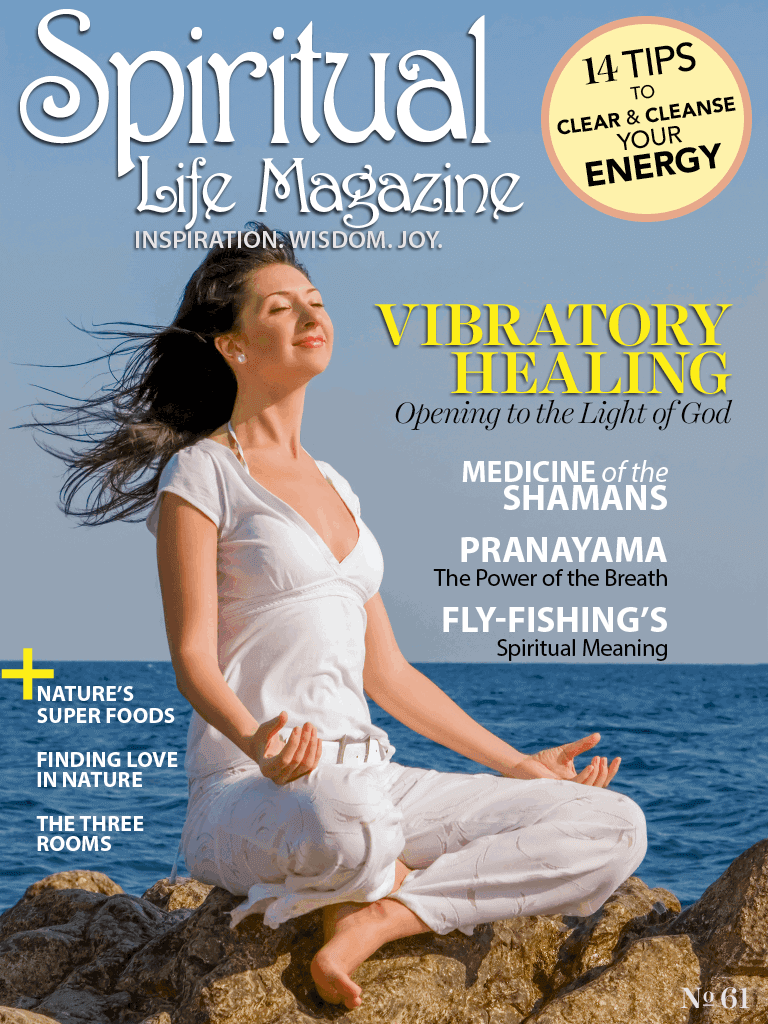 In This Issue
From the Publisher...

This issue focuses on energy because the spiritual journey is largely about energy. Unlike conventional medicine, energy healing works with our body-mind-soul as an integrated system and goes straight to the root cause of any imbalance or inharmony.

An Act of Extreme Kindness

We all make snap judgements about people, especially drug addicted celebrity bad boys. This uplifting story about a serious accident and Robert Downey Jr.'s response shows a young girl how wrong she was.

Life of My Life: A Poem by Rabindranath Tagore

Rabindranath Tagore — polymath, poet, musician, artist, Nobel Laureate — calls out to us to re-connect our body, mind, heart and actions with the divine in every moment we live on Earth.

Your Spiritual Questions Answered

People ask: "How do I Overcome Nervousness?" and "How can I rejuvenate myself?" Maybe you're curious too. Paramhansa Yogananda answers...

The Language of the Flowers

God is invisible. If He didn't speak to us through flowers, how could we know Him? We love flowers and appreciate their beauty. Here's their deep purpose.

Nature's Super Foods: Edible Flowers For Your Good Health

Can you really eat flowers? Aren't they poisonous? Yes and No. Different flowers, weeds, and greens have different health benefits. And some you really need to be careful with.

Medicine of the Shamans: Excerpted from "Grow a New Body"

Medical anthropologist and shaman, Alberto Villoldo, PhD reveals ancient secrets of shamanic energy healing and sacred technologies, combined with modern neuroscience. His is a unique, yet practical system for healing and experiencing Oneness.

When Thy Song Flows Through Me

Sing along with the "The Gurubhakti Bros" in this video when you're struggling with the ups and downs of life, and long for the comfort of the Divine presence.

Vibratory Healing: Opening Ourselves To The Three Kinds Of Perfect Light Of God

Paramhansa Yogananda explains that God doesn't want us to suffer. But we close ourselves to his healing rays. Then he talks about chanting which is one of our most powerful spiritual practices for opening our hearts to the divine.

Why Is Chanting "Half the Battle"?

People often dismiss chanting as repetitious and boring. It does require concentration and practice. But the benefits are well worth it. In this short video, Dambara Begley shares his passion for chanting and explains why it's important for our spiritual growth.

Door of My Heart: A Favorite Devotional Chant

Sing along with Swami Kriyananda in this video or just listen and absorb the feeling of longing for God and calling on the Divine to come to you.

A Quick Study in Energy Healing: An Infographic

We are beings of energy and all true healing — physical, mental, emotional, spiritual — occurs on an energetic level. If you've ever wondered what energy healing is, why it works, the different techniques, and benefits, this infographic is for you.

Good Health: Affirmation and Prayer for Self-Healing

Use this deep insight into the spiritual quality of "Good Health," affirmation and prayer by Swami Kriyananda to attain a radiant state of inner well-being.

14 Tips to Clear and Cleanse Your Energy Blocks

Often the problem is not the amount of our energy, but the blocks. Like a clogged up drain, the energy doesn't flow. That's why stimulants (either drugs or natural herbs) often make things worse. Nayaswami Kamala gives us some easy tips for clearing our blocks.

The Power of Green

Green is the outstanding pigment on Mother Nature's palette of exterior decorating, and must therefore have some significance of tremendous importance for us.

God's Power, Vitality, Good Health, and Strength Flow Through Me

A powerful chant performed by The White Light Kirtan Band to overcome sickness and low energy.

Pranayama: The Power of Breath

The yogis of ancient India discovered an intimate connection between breath and the mind and thus our energy. Charles Shahar explains pranayama and gives us some practical breathing exercises we can use to calming the mind and go deeper in meditation.

Change Your Breath, Change Your Life: 7 Yoga Breathing Techniques

Working with our breath is the best, most direct way of working with our energy. In this series of eight videos, Nayaswami Gyandev guides us through techniques for alleviating stress, depression, and insomnia; healing emotions; increasing concentration and spiritual power.

Fly-Fishing's Spiritual Meaning: A Preacher's Adventures and Reflections

James W. White, minister emeritus of First Congregational United Church of Christ in Colorado Springs and "senior" guide for Anglers Covey Fly Shop, shares how and why fly-fishing is a positive spiritual activity.

Finding Love in Nature

Love is everywhere; are you seeing it? Jenny Lynne reveals the signs and messages Nature offers to remind us to open our hearts and be present to love.

So…How Does Reiki (Energy Healing) Really Work?

Anya Light, PhD, author, lightworker, intuitive life coach, meditation teacher, Reiki master, and poet answers the questions about Reiki you've been looking for.

The Path to Initiation

A unique and personal account of one engineer's preparation for spiritual initiation.

The Three Rooms: Which Room Are You In?

Since our thoughts affect our health, our wealth and our relationships, observing which room your thoughts are in can change your experience of life.

Old Irish Blessing

May love and laughter light your days, and warm your heart and home. ...
About Spiritual Life
Spiritual Life Magazine brings you practical guidance and meaningful spiritual advice without wasting your time with mystical fads or Hollywood trends.
Inside, you'll find practical tips and tools, wisdom and insights, joy and inspiration … that you can actually use to be happier, and feel more peace, love and joy.
You're most welcome to join us.
Category: Sports & Fitness, Health & Nutrition, Lifestyle, Personal Development, Wellness & Meditation
Publisher: Spiritual Life
Published: Quarterly
Language: English
Compatibility: iOS / Android
Peek Inside
Tap images to enlarge...
About The Publisher
We certainly live in challenging times. Our entire planet is embroiled in a dire battle between good and evil, light and darkness. And the forces of darkness... read more

Past Issues
Tap below for more from Spiritual Life Magazine