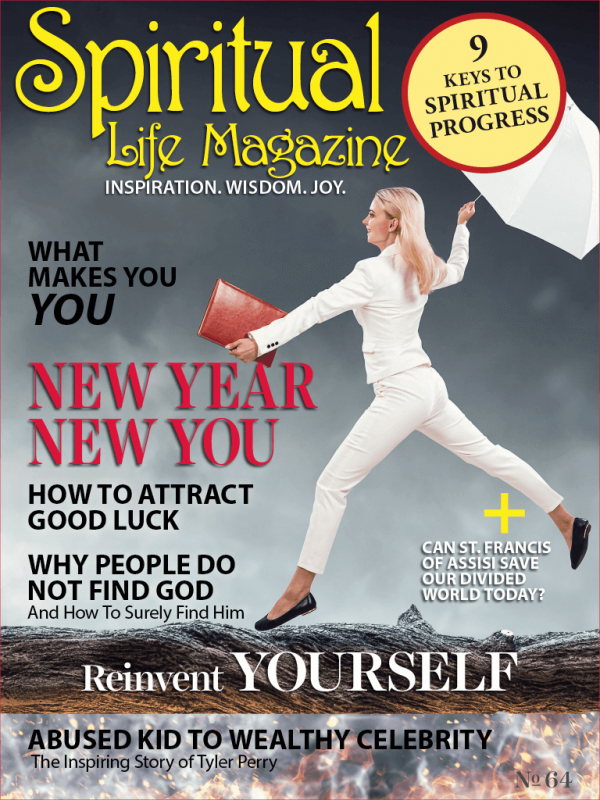 In This Issue
From the Publisher ...

This issue focuses on renewing and reinventing yourself. I celebrate you for your aspirations in leading the practical spiritual life. No effort—no matter how small—is ever wasted. Just keep moving forward on your journey—one baby step at a time—and you'll reach your goal.

Success Demands Commitment

Instead of courageously advancing toward my goal, I had stopped midway to consider my position and thereby opened myself to doubts. It was a dangerous crossing but the time for deliberation had been when I hopped onto the log, not once I was half way across. So it is with countless endeavors and so it is with the spiritual life.

The Road Not Taken: A Poem by Robert Frost

"The Road Not Taken" is a arguably the most popular poem in the English language. Its central theme is the divergence of paths, literal yet also clearly figurative, although its interpretation is noted for being complex and (like the road fork itself) potentially divergent.

Your Spiritual Questions Answered: How Do I Know Which Guru Is Right for Me?

With warm, humor and wisdom, Nayaswami Anandi offers guidance in meditation, yoga and the spiritual life. People often stress over finding their particular spiritual path or guru. "Do I even need a guru?" If you too have ever wondered about attracting your path and the right guru, here are some things that can help you.

Abused Kid To Wealthy Celebrity: The Inspiring Story of Tyler Perry

Tyler Perry is an example of someone who overcame the rough circumstances of his origins and turned his entire life around to fulfill his dreams. He never stopped believing in his mission and he never gave up.

6 Steps to Inspire Your Inner Greatness

A fun infographic about reinventing yourself and expressing your authentic superhero within.

What Makes You YOU

Each and every one of us is unique. There has never been anyone else exactly like you, and there never will be again. You are a child of God, as individual as a snow flake. Looking around, we wonder what makes us uniquely ourselves, different from everyone else we see.

This Might Resonate With You

In this TEDx video, David Eby uses a cello, piano strings, and the voices of the audience to demonstrate how resonance works. Weaving music and meditation, he creates the space to experience genuine human resonance—the true secret to sharing inspiration and unleashing your potential.

New Year; New You

"I thought, I need to reinvent myself. I want every day of life to be wonderful, fascinating, interesting, creative. And what am I gonna do to make that happen?" ~Karen Allen

21 Quotes on Reinventing Yourself

Sayings from famous people to inspire your journey to manifesting your best, most authentic self.

The Noble New

The White Light Kirtan Band performs this inspiring song about creativity in our spiritual life. "Sing songs that none have sung, Think thoughts that ne'er in brain have rung, Walk in paths that none have trod, Weep tears as none have shed for God, ..."

Why People Do Not Find God, and How To Surely Find Him

Do you wonder why you do not often find yourself progressing in every way? Do you feel that you are a helpless victim of your already formed habits and circumstances? Do you know the technique of psychological victory, and put forth the continued effort necessary for perfect success? Read on for help and guidance…

9 Keys to Spiritual Progress: A Scoreboard

If you feel you are not making spiritual progress, the first thing to do is to take stock of yourself and find out what is standing in your way. Here are 9 soul qualities you must cultivate to develop spiritually.

Self-Expansion: Affirmation and Prayer for Self-Healing

Use this deep insight into the spiritual quality of "Self-Expansion," affirmation and prayer by Swami Kriyananda to experience an expansion of sympathy, of love, of the awareness that comes from sensing God's presence everywhere.

How to Attract Good Luck

We can indirectly influence and bring forth good luck into our lives by cultivating certain traits that will help us develop a luck-attracting mindset — enabling us to attract the opportunities into our lives that are given to us by lady luck. Enjoy the charming diagrams that activate your right brain.

The Argument for Tolerance

The very nature of spirituality is to get rid of the reference to "I". We need to understand that we are all one. When we comprehend this point, we can never speak in any form of them and us.

Can St. Francis of Assisi Save Our Divided World Today?

Are we trying to solve the problems of the world with the same thinking that got us into trouble? If so, maybe ten radical people like St. Francis of Assisi are enough to turn things around.

Closing Blessing

I wish for you... Peace for your mind, Love in your heart, Energy for your body, Joy for your spirit ... I pray that you'll have all these things today and for always in ever increasing abundance.
About Spiritual Life
Spiritual Life Magazine brings you practical guidance and meaningful spiritual advice without wasting your time with mystical fads or Hollywood trends.
Inside, you'll find practical tips and tools, wisdom and insights, joy and inspiration … that you can actually use to be happier, and feel more peace, love and joy.
You're most welcome to join us.
Category: Sports & Fitness, Health & Nutrition, Lifestyle, Personal Development, Wellness & Meditation
Publisher: Spiritual Life
Published: Quarterly
Language: English
Compatibility: iOS / Android
Peek Inside
Tap images to enlarge...
About The Publisher
We certainly live in challenging times. Our entire planet is embroiled in a dire battle between good and evil, light and darkness. And the forces of darkness... read more

Past Issues
Tap below for more from Spiritual Life Magazine