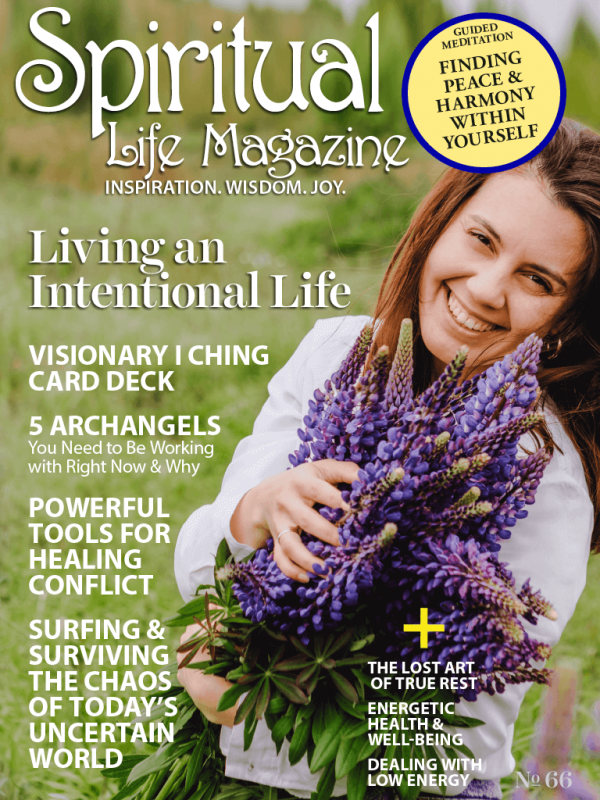 Purchase Options
Available for iOS / Android
In This Issue
From the Publisher ...

The spiritual journey is largely a matter of self-healing body, mind, heart and soul. We offer articles, videos, visualizations, affirmations, guided meditations, and more to help you experience the peace and harmony that comes from true healing..

10 Second Visualization - Sun energy & Light

Close your eyes and imagine the sun on your skin. Feel yourself soaking up its energy and light.

A Whole New World by Sanyika "The Firestarter"

In this deeply moving and inspiring short film, Sanyika manages to describe the world right now in a way that uniquely captures this unprecedented moment. And by showing us "The things I've missed the most," he reveals one of our highest values—building community, rapport—human to human.

The Buddha's Enlightenment

It is said that at the moment a great soul achieves enlightenment a wave of blessing is felt around the world. Here are five stories of what happened that day long ago when Gautama meditated under the banyan tree and became the Buddha.

Flight: A Poem by Paramhansa Yogananda

"I closed my eyes and saw the skies Of dim opalescent infinity spread round me. The grey chariot of the dawn of awakening, Decked with lights giving subtle vision, Came and took me away. ..."

Becoming Aware of Your Resistance: The Key to Surfing and Surviving the Chaos of Today's Uncertain World

Did you know that you are fearless, generous beyond thought, gracious, creative, able to shape shift your des­tiny? You are! So what is keeping you from celebrating yourself, from living the bountiful life you deserve and can create?

Garudasana: The Eagle Pose

This asana taken from Hatha Yoga teaches us to "Feel that, thought life may twist you in countless outward directions, inwardly you remain at peace, centered in your highest Self, as you affirm, 'At the center of life's storms, I stand serene.'"

Living an Intentional Life: You hold the Key!

The human spirit inside each of us has an enormous capacity to survive every unexpected twist and turn life has to offer. Do you know what kind of life you want to live? I thought I did but I was, in reality, just a passenger in my own life idly allowing things to happen, situations to change and moments to pass by. ...

A Powerful Tool for Healing Conflict

I have witnessed many miracles in my own life and in the lives of friends. About a year ago, I learned of a prayer by Paramhansa Yogananda that seems specially empowered to bring miracles of healing to anyone having conflicts with others.

Guided Meditation: Finding Peace and Harmony within Yourself

Ganesha leads us in a 30-minute guided meditation to feel in ourselves the peace and harmony that's there all the time.

Peace

This beautiful song shows us that from the heart of peace alone comes understanding. To bring peace to the world, we must seek it first within.

Lord, Make me an instrument of Your Peace

Where there is hatred, let me sow love; Where there is injury, pardon; Where there is discord, unity; Where there is doubt, faith; Where there is error, truth; Where there is despair, hope; Where there is sadness, joy; Where there is darkness, light.

5 Archangels You Need to Be Working with Right Now & Why

Although we don't need times to be tough to call on our angels, now is a time, more important than ever to be praying and invoking the help of the divine on the daily. Sometimes it can be challenging to know who to call on, when, and why.

Amitabha Buddha Lives in My Heart

A story about a spiritual adept who was a devotee of Amitabha Buddha, the Buddha of Infinite Light.

Security: Affirmation and Prayer for Self-Healing

Use this deep insight into the spiritual quality of "Security," affirmation and prayer whenever you feel worried and afraid, stressed by whatever is happening in your life. Experience the power of drawing on Divine protection and finding the faith that everything is in God's hands.

Interview with Paul O'Brien Creator of the Visionary I Ching Card Deck

Paul tells many intriguing stories about his experience with the I Ching, how he came to create a card deck form of the ancient oracle and how you can use it to improve your decision making intuitively.

The Time for a Spiritual Revolution is NOW

Why is there so much pain and suffering in this world? Why all the fear, anxiety and hate? The entire planet seems to be on edge, and temperatures are rising. By stepping back and taking a panoramic view of the situation, the answers began to reveal themselves.

Energetic Health and Overall Well-Being

As we step into the next phase of these challenging times, one of our main focuses and concerns about ourselves throughout this year has been our health on all levels ... physical, emotional and mental, and spiritual.

Dealing with Low Energy

A number of friends have recently mentioned that they're feeling overwhelmed, and just don't have the energy to deal with all the demands in their lives. If you are feeling this way. you're not alone -  the whole world is stressed and worried. We can't cure the ills of the world, but there are many things that we can do on a personal level ...

The Lost Art of True Rest

When do we ever truly rest, not only our bodies but our minds? We need it. We really need it. The lack of true rest creates a drainedness, where we're never really fully energized, fully present, fully alive. Leo offers some suggestions for how we can truly rest.

Attraction

It appears that attraction and presence have little to do with our senses. It relates to what we feel. What is it that attracts us to other people? What causes these feelings, which are like an energy field, generated by some?

Mission to India - Dr. George Lombardi

Mother Teresa was serious ill in a hospital bed in Calcutta. Her doctors had no idea what was wrong. Nuns and fans around the world were praying, afraid she was dying. A young doctor was called in from New York. In this very funny and extremely inspiring video, Dr. Lombardi tells his story.

Closing Blessing

May the Divine light awaken and purify your heart and bring enlightenment to all beings.
Purchase Options
Available for iOS / Android
About Spiritual Life
Spiritual Life Magazine brings you practical guidance and meaningful spiritual advice without wasting your time with mystical fads or Hollywood trends.
Inside, you'll find practical tips and tools, wisdom and insights, joy and inspiration … that you can actually use to be happier, and feel more peace, love and joy.
You're most welcome to join us.
Category: Sports & Fitness, Health & Nutrition, Lifestyle, Personal Development, Wellness & Meditation
Publisher: Spiritual Life
Published: Quarterly
Language: English
Compatibility: iOS / Android
Peek Inside
Tap images to enlarge...
About The Publisher
We certainly live in challenging times. Our entire planet is embroiled in a dire battle between good and evil, light and darkness. And the forces of darkness... read more

Past Issues
Tap below for more from Spiritual Life