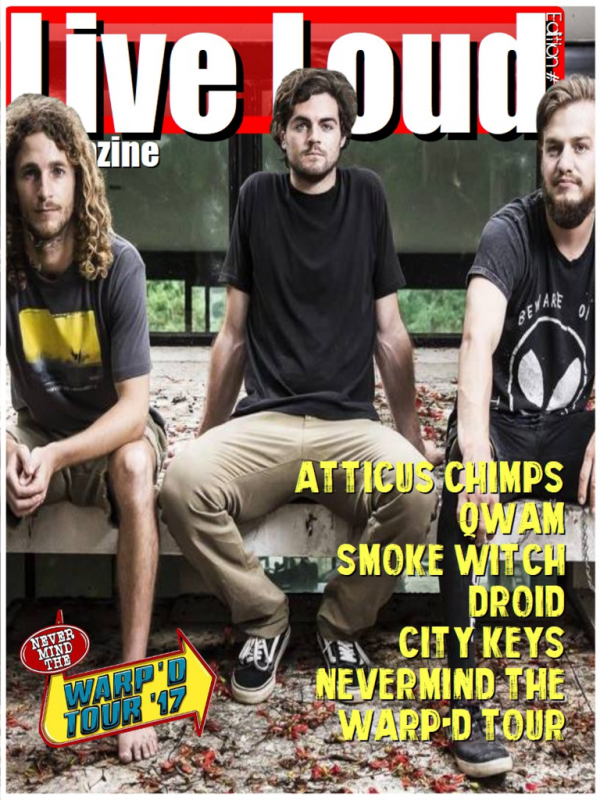 Purchase Options
Available for iOS / Android
In This Issue
QWAM

There's a new and exciting sound emerging from the cool Brooklyn music scene and their name is Queen With A Megaphone, otherwise known as QWAM. With a grizzly and completely raw style, Queen With A Megaphone hits hard and fast yet with an unexpected freshness. We interviewed them.

Atticus Chimps

Atticus Chimps are a three piece Alternative Rock band from the Gold Coast, Australia. Their sound can sway from calm and melodic love songs, to fast-paced heavy rock anthems that convey a message of dissatisfaction with authority and alienation from society.

Nevermind The Warp'd Tour

In 2013, some Melbourne local bands approached the Warped Tour event organizer to consider adding some of them to the lineup of their tour, only to get a response of "Not a fucking chance, you're nobodies".

Smoke Witch

In the winter of 2016, Smoke Witch came into being; a twin-cylinder sonic jam from Geelong. With the band being together for not much more than one year, they've already recorded and released their debut on vinyl and CD, plus another two 7 inches, with more tracks already recorded.
Purchase Options
Available for iOS / Android
About Live Loud
Live Loud Magazine is the original music magazine app for the punk & hard rock lovers.

Whether you're into skate punk or grunge, love live music & can't miss a gig then Live Loud is your mag!

Join your community now!
Category: Dance, Lifestyle, Music, Travel & Destinations, Entertainment
Publisher: Live Loud
Published: Monthly
Language: English
Compatibility: iOS / Android
Peek Inside
Tap images to enlarge...
About The Publisher
Live Loud Magazine is more than a music mag: it's your guide to a rad way of life. Punk is: the personal expression of uniqueness that comes from the... read more

Past Issues
Tap below for more from Live Loud