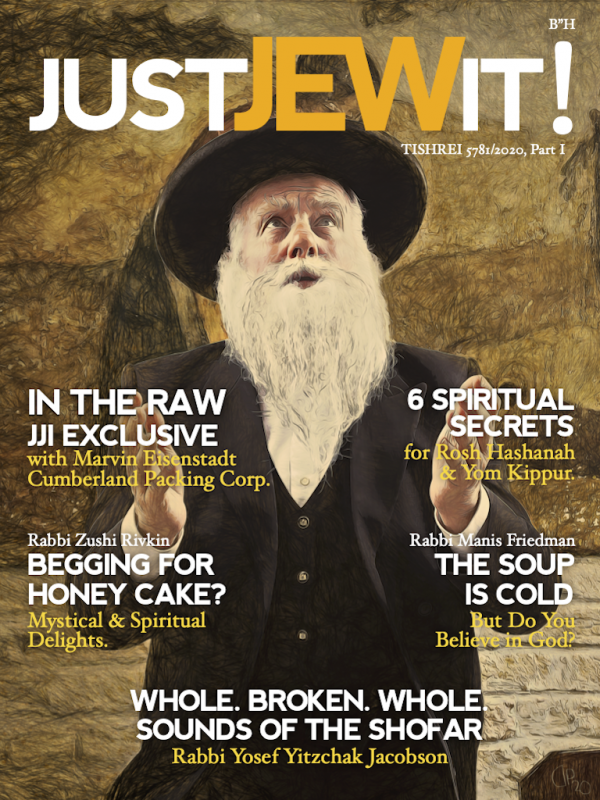 Purchase Options
Available for: iOS/Android App + Web Reader
In This Issue
In The Raw™ Exclusive.

Just Jew It interview with Marvin Eisenstadt, Chairman of the Cumberland Packing Corporation, founders of the sugar packet, Sweet 'n Low, Sugar In The Raw™ and other raw sweeteners including Honey In The Raw™ which is the subject of this issue's deep-dive into the role that honey plays in the upcoming New Year holidays.

Begging for Honey Cake?

Join Rabbi Zushi Rivkin for a spiritual and physical tour around Pasadena, CA, to expound on the mystical elements of honey at Rosh Hashanah and for the whole month of Tishrei. Discover the spiritual sweetness of honey, and why you should be begging for honey cake!

Gifts of the Tzadikim Graphic Novel.

In our complex and difficult time, the ancient wisdom of Judaism is still an inspiration for all of us. JJI Media announces the Gifts of Tzadikim graphic novel series coming soon to the app store.

Whole. Broken. Whole. - Sounds of the Shofar.

Tekiah, to remind us we were born whole. Shevarim, to remind us that the questions, confusions and disappointments cause fragmentation in our lives. Teruah, to remind us how life's difficult experiences can shatter us. Then comes Tekiah Gedolah, the Great Tekiah, that brings us to an even deeper kind of wholeness, more than we've ever known - with Rabbi Yosef Yitzchak Jacobson.

Teshuvah, Tefillah, Tzedakah.

Teshuvah is not repentance. Tefillah is not prayer. Tzedakah is not charity. Then what's it all about?

Kabbalistic Secrets of Rosh Hashanah.

He couldn't read a word. Yet his cries reached the heavens.

Not your typical crafty gig.

[Video]You'll be surprised by the intricacy, and creative though simple steps to create a gorgeous honey dish for your Rosh Hashanah table - video with Abbey Wolin from Not Too Shabby. A supreme educator, she's got her creative streak right at the heart of education.

A Personal Journey through the Jewish Holidays.

One woman's journey to the sanctity of Torah and Mitzvot.

Rosh Hashanah is All About You.

In his inimitable fast-paced yet easily understandable teachings, Rabbi Yisroel Glick talks us through how Rosh Hashanah is about the new year... and the new you.

The 120-Day Human Story.

What is this whole process of self-development for? Why do we strive so hard to succeed? What's driving us?

The Soup is Cold.

But have you ever asked an American Jew if they're religious? "I am a Jew even if I'm not religious, and God is God even when I don't believe in him." - with Rabbi Manis Friedman

How Sweet is Honey in Jewish Lore and Tradition!

It's not just the apples... explore the significance of honey in Jewish Lore and Life, in time for your Rosh Hashanah meals!

The Kabbalah of Bee Honey.

[Audio] Deeper mystical insights into the significance of bee honey - with Rabbi Aryeh Citron.

The Pogroms of Bessarabia.

Pogrom: an organized massacre of a particular ethnic group, in particular that of Jews in Russia or Eastern Europe.

The Cry of the Shofar.

A parable for the shofar, to open the heart to cleave to G-d.

The Bee's Knees.

Don't just dip your apple in honey, immerse yourself in joyful Judaism. It's the bee's knees.

We Are a Miracle.

[Music Video] Chosen with Love. Embraced from Above - Yaakov Shwekey.

I'm a Jew and I'm Proud.

[Music Video] And I'll sing it out loud - Benny Friedman

Avinu Malkeinu.

[Music Video] Hear Our Voice. Renew us for a good year - Shulem Lemmer.
Purchase Options
Available for: iOS/Android App + Web Reader
About Just Jew It Magazine
Just Jew It Magazine brings Jewish life into your everyday world with authentic Torah content, insights and wisdom delivered through a multi-sensory experience of stunning imagery, riveting articles, magnificent music, videos, and exclusive interviews that bring you personal and relevant messages from the great Jewish luminaries of our time. Subscribe today!
Designed & published expressly for mobile devices, you'll have no pinching, pulling, zooming, tiny text, or slow-loading ad-saturated websites. It's nice!
Category:
Publisher: Just Jew It Magazine
Published: Quarterly
Language: English
Compatibility: iOS/Android App + Web Reader
Peek Inside
Tap images to enlarge...
Past Issues
Tap below for more from Just Jew It Magazine