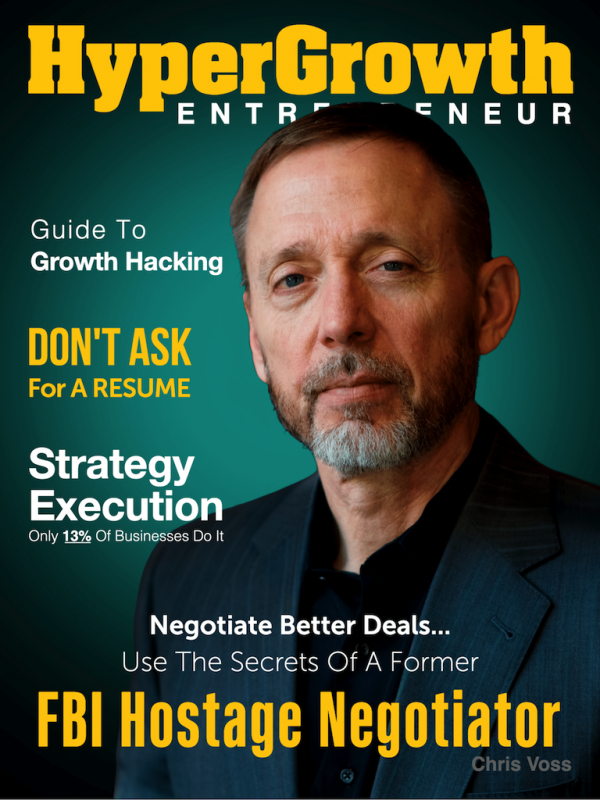 Purchase Options
Available for: iOS/Android App + Web Reader
In This Issue
The State of B2B Content Marketing: 6 Things Every Brand Needs to Know [Infographic]

Del Gigante says 87% of B2B companies in the U.S. engage in content marketing… because it works. What's the best fit for you? Read-Digest-Do. By Michael Del Gigante

Your People Are Killing You! Do You Know What They Are Really Saying?

If you have never done this before… be prepared for the shock of your life. Doing this is not an option. You wonder why your company is bleeding money! By Coach Gusty

A Tradeshow Checklist, born of experience

"A/B test your pick-up lines" and "Don't ask how they are doing" are my two favourite points in this article. Go through every subhead and check to see if you are doing it. If you want to be more profitable, follow what Jason says. It's up to you to make it happen. By Jason Cohen 14 minute read

FEATURE: How to Negotiate with Difficult People

"I'd never experienced a hostage situation so tense, so personal. 'We've got your son, Voss. Give us one million dollars or he dies.' Chris Voss was the lead international kidnapping negotiator for the FBI. During Chris's 24 years, he was trained by the FBI, Scotland Yard and Harvard Law School. He has used his experience in international crisis and high-stakes negotiations to develop a unique program that applies these globally proven techniques to the business world. An absolute MUST READ. By Chris Voss 9 minute read

What is Strategy Execution?

90% of organizations fail to execute their strategies successfully (The Balanced Scorecard). Whatever statistic one uses, it's exceedingly high. What about your company? Barrows give you a list of 10 steps to prevent you from becoming a statistic. By Ed Barrows 8 minute read

The 4 Most Powerful Words You Can Say As A Leader!

Are you still doing the thinking for people? Are you still answering their questions? Here' WHY and HOW to stop it. By Coach Gusty 4 minute read

Process Mapping - Step by Step Guide

Good business processes improve productivity, reduces costs and keeps errors to a minimum. James does a great job explaining what you need to do like not getting sidetracked by exceptions and involving the people who do the work. By Ian James 9 minute read

Your Ultimate Video Marketing Guide For 2019: Tips, Strategies, And Examples

This incredible video guide levels the marketing playing field. Roberts busts a bunch of video myths and gives you real bottom line reasons for using video, and tells you how to do it. Read it to the very end and it will change your perspective on the amount of video marketing you should do By Mackenzie Roberts 9 minute read

The Ultimate Guide to Growth Hacking for Exponential Success

This article is all about driving growth and scaling your business, including focussing on "pirate metrics". Hurley Hall does a thorough job of outlining an action plan, and gives you some tools to use to make it happen right now By Sharon Hurley Hall 15+ minute read

Never Ask for A Resume

This is clearly disruptive recruiting. Many HR "experts" disagree with this, however; you will see why this helps you get better people. By Coach Gusty 3 minute read

The Importance of Hiring A-Players

It's a joy to see organisations who adopt a "Hiring A Players" strategy; it's actually a company culture. King's comment, "it's crucial for small business" resonates with entrepreneurs who are trying to scale. You simply can't do it without GREAT people. By Sandy King 5 minute read

If You Are Growing Fast; Then Your Cash Is Probably Hurting You

Cash Flow is a serous problem when you are facing rapid growth. So, even if you're a Rockstar from a marketing perspective, you need to stay constantly focused on managing your company's cash flow to prevent a serious business problem. Take note of the cash flow steps in this article; especially how to get your customers to pay on time. By Suresh Lyer 12 minute read

Is Artificial Intelligence for Small Business? Factors to Consider for Technology Adoption

Flagella explains what you, as an entrepreneur need to do right away. Find out why AI technology is currently a "dark art" and why you need to store and record data in a consistent manner for eventual use with AI. By Daniel Faggella 15+ minute read
Purchase Options
Available for: iOS/Android App + Web Reader
About Hyper Growth
HyperGrowth Entrepreneur gives you battle hardened strategies, tips, and secrets to help you scale your business.
It's the only business magazine app that has a professional business coach provide you more insight after each article.
PLUS, it offers you access to free training. Join our group today.
Category: Business & Entrepreneurship, Education, Personal Development
Publisher: Hyper Growth
Published: Quarterly
Language: English
Compatibility: iOS/Android App + Web Reader
Peek Inside
Tap images to enlarge...
About The Publisher
In the beginning... Because Coach Gusty does his coaching either across the desk or across the internet, he gets to interact with a variety of entrepreneurs.... read more

Past Issues
Tap below for more from HyperGrowth