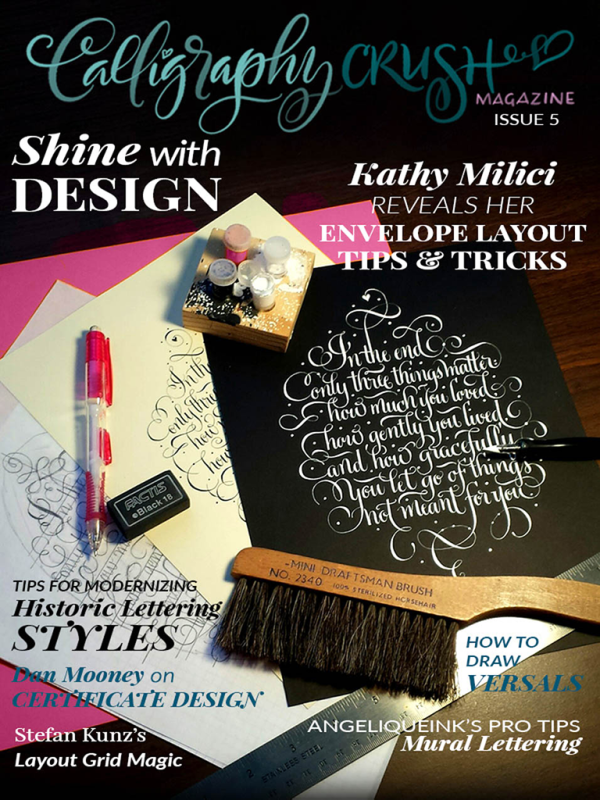 In This Issue
Cover Artist Interview: Kathy Milici

Kathy Milici is an internationally-known calligrapher, designer, instructor and mentor who happily admits to being obsessed with letters since childhood.

The Heirloom Certificates of Dan Mooney

Certificate design doesn't have to be boring and monotonous, even though it follows a standard layout and hierarchy of information. Dan Mooney, an expert designer of awards and certificates, shares how he works with clients and adds creative elements to his designs, ensuring that his amazing art will be cherished for generations to come.

Wall Scrawls: Angi Phillips' Modern Murals

A‌ngi Phillips is a self-taught calligrapher and graphic designer, famous on social media for her amazing calligraphy wall murals featuring modern calligraphy.

Santa's Artsy Letters

Monica Lima was asked to write a "simple Santa letter" in calligraphy by a military mom to give to her kids. However, the word SIMPLE is not in Monica's vocabulary!

Envelope Elements

R‌eceiving a beautifully-designed hand-lettered envelope is one of the many joys in life. But creating one yourself is even better!

Identify Your Design Sense

Whether you are a hobbyist or a professional lettering artist, you can't escape design. Defining your own design sense will guide you when you want to develop a unique calligraphy style, create an exciting composition, or build a brand for your business that reflects your personality and taste.

Modernizing Historic Hands: Part II

Bring personality to a historic script by changing certain elements of it to free it up, while keeping it recognizable as based on a historic hand.

Tutorial: Adding Machine Tape Garland

Make a festive garland with inexpensive adding machine tape! You can use a brush pen, a pointed pen, markers, watercolor pencils, paints, whatever medium you enjoy writing with. You can even get your whole family to write a section and make it a tradition every year!

Tutorial: Mail Art Mailing Trick

Learn how to protect your mail art so that it arrives safely at its destination.

Tutorial: Magnolia Leaves Place Cards

Don't you love it when a simple, elegant, and inexpensive detail can upgrade a tablescape? Instead of using typical place cards, try magnolia leaves!

Tutorial: Embossed Brush Lettered Gift Bags

A‌dd glitz to your gifts by personalizing gift bags with embossed brush lettering!

Tips: Getting Started in Calligraphy

Barbara Close, an internationally-known calligrapher, designer, and instructor from California, offers advice on how to get started on your calligraphy journey.

Tips: The Learning Process

What are a few important things to remember about the learning process besides developing consistent practice habits?

Interesting Facts about the US Postal Service

Find out what happens to your pretty envelopes during their travels through the postal system.

Product Review: Stefan Kunz's Layout Magic

If you have a great quote you want to write but are stuck with how to design it, Stefan Kunz's grid builder can save you time by providing dozens of different layout ideas to play with.

Behind the Scenes: JP Panter's Ornamental Envelope Extravaganza

When I received JP Panter's flourished schooner envelope in the mail, I gasped out loud. I was also shocked that it made it to me without being intercepted along the way.

Behind the Scenes: Drawing Versals Using the Principles of Design

Designing Versal letters is a fun challenge. By applying the principles of balance, repetition, and variation, you can design a variety of Versal alphabets for your calligraphy projects.

Pen Maker Interview: Held Pens

Welcome to a world of enchanted forest animals and Victorian ornamentation that you can hold in the palm of your hand.

Biz Interview: Bespoke Strokes

Chantelle Hoffmann of Bespoke Strokes is a calligrapher, engraver and instructor who balances a busy family life with the demand for her calligraphy and engraving services.

Gallery: Tri Le

Tri Le is an amazingly versatile penman in both pointed pen and broad pen styles.
About Calligraphy Crush
Calligraphy Crush is dedicated to the artistry of modern calligraphy, historical letterforms, hand lettering, watercolor illustration, stationery, and all things enhanced with beautiful writing.
Available for viewing on tablets and smart phones only. The desktop version will be available soon.
Annual subscription includes 4 issues.

Each issue (100+ pages) features:
Tutorials
Calligraphy FAQs
Behind-the-scenes peaks at calligraphers' businesses and design processes
Product reviews
Design inspiration
Category: Arts & Photography, Business & Entrepreneurship, Crafts & Hobbies, Education
Publisher: Calligraphy Crush
Published: Quarterly
Language: English
Compatibility: iOS / Android
Peek Inside
Tap images to enlarge...
About The Publisher
Calligraphy Crush Magazine's mission is to inspire, educate, and entertain calligraphers and hand lettering artists who create beautiful lettering as a... read more

Past Issues
Tap below for more from Calligraphy Crush Magazine